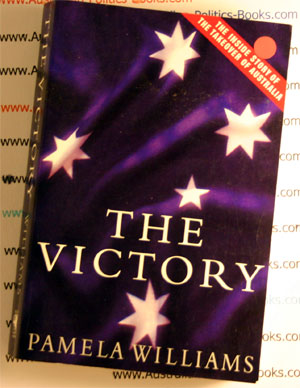 The Victory - Pamela Williams
The Victory - Pamela Williams
Used softback: .1997 edition ex-library in good condition -clean book - tight binding - no other marks tears - loose or missing pages
The Inside Story on the Takeover of Australia
John Howard won a sweeping election victory against Paul Keating�s Labor Government and became Australia�s 25th Prime Minister in 1996.
This is the inside story of that Election Victory
The Victory
by Pamela Williams
Allen & Unwin, Sydney, 1997, 370pp, .95
ISBN 1-86448-405-5


Review by Jason Falinski from the Centre of Independent Studies


This is the first book in Australian politics that attempts to give readers an inside look at a Liberal Party federal campaign. There have been others that dissected federal campaigns from afar, and there have been inside accounts of Labor Party campaigns, but never an inside account of a Liberal Party campaign. This alone makes Pamela Williams�s book worth reading, but fails to live up to expectations.

When Williams addressed the Sydney Institute last year she was asked why the Liberals had changed their minds and let her cover the story from the inside. She said she did not know. This sums up the narrative of the book � startling facts and mind boggling stories that simply leave the reader wondering if there is more. Given the unusual access that she had to the Liberal campaign it is disappointing; there is a remarkable lack of intimacy between Williams and the Liberal campaign. (Although this would be less surprising if, as I have been told, she was only invited to one campaign strategy meeting, and then only for the first twenty minutes.)

In fact, from this reader�s point of view, she gets closer to the drama of the ALP campaign in spite of not being �inside� it. Nevertheless, even here there are vital pieces of the puzzle missing that must have occurred to Williams. For example, when Keating�s office was vehemently arguing that Gary Gray (the ALP National Secretary) should open an attack on Howard, his team, and their past, Gray resisted. He was resisting this attack so vigorously that he went so far as to deceive Keating�s office about his
intentions.

Separated by thirty pages, both Andrew Robb and Mark Textor (the Liberal Party�s Federal Director and its pollster) comment that the Liberal Party was vulnerable to this line of attack. In fact, Robb was sufficiently concerned to have a mock campaign prepared by the Liberal�s advertising agency to try to anticipate Labor�s attack and plan a counter. Williams had all of this information, and yet she failed to consolidate it and draw some obvious
conclusions, such as that Keating was right and Gray was wrong.

Williams records the now well-reported �Captain Wacky� nickname earned by Keating, and Gray�s decision simply not to spend money on advertising in the last week of the campaign, without remark. Surely this was a large problem: the ALP�s campaign head was openly deriding and ignoring the wishes of its leader. If Gray thought Keating so bad, why did he not do what the Liberals had done and agitate for a change in leadership, or go himself? Yet, search as you might, there is no analysis and no comparison between choices made in the two camps.

There is no serious discussion of the legitimate protest of Keating�s office that Gray had no answer to the government�s falling popularity. In the entire book only Russell, Watson and Keating enunciate a possible election strategy. The strategy involved reinventing welfare and the public service along similar lines to what Bill Clinton was doing in the United States. Keating failed to implement the strategy because he felt it was too late in the day to implement it and it would have been seen as cynical.

That is it. Regardless of Gray�s criticism, Keating�s office were the only group of people in the book who worked out an ALP campaign strategy. Gray could only tell them how bad things were. As Andrew Robb has admitted to this writer, the strategy would have worked; in fact, the Liberals were expecting it about a year earlier. So there you have it: Keating and Robb thought of the same strategy, but not Gary Gray, the one person responsible for an ALP re-election campaign strategy. Remarkably, Gray escapes any criticism from Williams.

In comparison, what hope did the Liberals have of Williams noticing the little things that make up a campaign, such as a Liberal crying in the campaign headquarters after a bad day? Where was the analysis of the drama and the emotional roller coaster that is a federal election campaign? Surely this demanded further investigation; it must have been a pointer to a highly charged atmosphere in Liberal Campaign Headquarters.

Williams�s book suffers from the �too many spin doctors spoiling a story� phenomenon. How she could have believed some of the nonsense on the Liberal side about who was responsible for aspects of the campaign is beyond me. And certainly, on the ALP side, the account of the �Letters Affair� in the last days of the campaign does not sound right. Reading Williams you are left with the impression that Willis�s office, known for their thoroughness and caution, were guilty of rushing in where angels fear to tread, while all the time the ALP National Headquarters, which had sent Carmen Lawrence out earlier in the campaign to denounce Howard with a faulty media transcript, were preaching caution. Willis clearly was not part of the �off the record� briefing sessions that everyone, except Keating, appeared to be in on.

For all of this, Williams�s book does convey some important aspects of modern day politics and political campaigns that are worth further analysis. She accurately describes the strategy of modern political campaigns that have made oppositions more dangerous than governments. By keeping yourself a small target, and saving your campaign resources until the campaign, it is possible to make enormous headway against any government. This strategy was first brought to Australia by Petro Georgiou and used to get Jeff Kennett elected by a massive majority; to date, it has only been used by the Liberals, not against them. One worry in Williams�s description of the campaign is the now enormous amounts of money required to run campaigns and the potential that could have, in the future, to distort government policy.

Williams recently wrote a long piece in the Financial Review about the Liberals� strategy to keep Howard prime minister and the manoeuvring of the Victorian division. Once again, it was a good narrative, but failed to explain the motivation and thought processes behind the strategic decisions being made. The Victory does not give you the insight into the Liberal Party that you might hope for, and the Labor Party account is reduced to Gray and others, making a preemptive strike against the Keating tirade that never came. The Victory is a good start, but more is needed, and this writer hopes that Williams gets the chance at the next federal election to once again write from �the inside� of the Liberal campaign.

Jason Falinski was national president of the Young Liberal Movement in 1997.