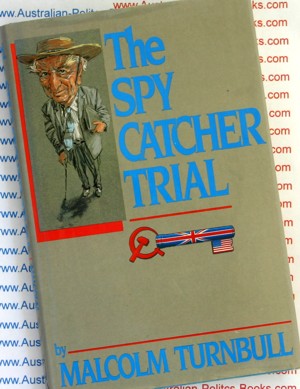 The Spy Catcher Trial - Malcolm Turnbull USED
The Spy Catcher Trial - Malcolm Turnbull
Used 1988 edition ex-library book hardback in good condition (however part of the title page is cut)
Spycatcher details the author's work seeking to discover a Soviet mole in MI5, and that the said mole was Roger Hollis — a former MI5 Director General; it also describes people who might have or might not have been the mole; and renders a history of MI5 by chronicling its principal officers, from the 1930s to his time in service.

Moreover, Spycatcher tells of the MI6 plot to assassinate President Nasser during the Suez Crisis; of joint MI5-CIA plotting against left-wing British Prime Minister Harold Wilson (secretly accused of being a KGB agent by the Soviet defector Anatoliy Golitsyn); and of MI5's eavesdropping on high-level Commonwealth conferences.

Wright examines the techniques of intelligence services, exposes their ethics (speculative until that time), notably their 11th Commandment: Thou shalt not get caught, and explains many MI5 electronic technologies (some of which he developed), for instance allowing clever spying into rooms, and identifying the frequency that a superhet receiver is tuned to. In the afterword, he states that writing Spycatcher was motivated principally to recuperate pension income lost when the British government ruled his pension un-transferable for earlier work in GCHQ, a ruling that severely reduced his pension.
Publication and trial

Wright wrote Spycatcher upon retiring from MI5 and while residing in Tasmania. He first attempted publication in 1985. The British government immediately acted to ban Spycatcher in the UK. Since the ruling was obtained in an English court, however, the book continued to be available legally in Scotland, as well as overseas. It also attempted halting the book's Australian publication, but lost that action in 1987; it appealed but again lost in June 1988.

English newspapers attempting proper reportage of Spycatcher's principal allegations were served gag orders; on persisting, they were tried for contempt of court, although the charges were eventually dropped. Throughout all this, the book continued to be sold in Scotland; moreover, Scottish newspapers were not subject to any English gag order, and continued to report on the affair. Inevitably the British government's lack of preparation and knowledge of the legal differences between different countries within the UK weakened its standing in the case. Quantities of the book easily reached English purchasers from Scotland, while other copies were smuggled into England from Australia and elsewhere. A notable television report at the time featured a reporter flying to Australia, then flying back into England with ten copies of the book which he declared to Heathrow airport's customs officers. After some discussion, he was allowed to continue his carriage of the books into England, as they had been given no specific instructions to confiscate them.

In mid-1987, a High Court judge lifted the ban on English newspaper reportage on the book, but, in late July, the Law Lords again barred reportage of Wright's allegations. Eventually, in 1988, the book was cleared for legitimate sale when the Law Lords acknowledged that overseas publication meant it contained no secrets. However, Wright was barred from receiving royalties from the sale of the book in the United Kingdom. In November 1991, the European Court of Human Rights ruled that the British government had breached the European Convention of Human Rights in gagging its own newspapers. The British Government's legal cost were estimated at £250,000 in 1987.

The Daily Mirror published upside-down photographs of the three Law Lords, with the caption 'YOU FOOLS'. British editions of The Economist ran a blank page with a boxed explanation that

"In all but one country, our readers have on this page a review of 'Spycatcher,' a book by an ex-M.I.5 man, Peter Wright. The exception is Britain, where the book, and comment on it, have been banned. For our 420,000 readers there, this page is blank - and the law is an ass."

This is the story by Malcolm Turnbull of that trial
About Malcolm Turnbull
Malcolm Bligh Turnbull (born 24 October 1954), Australian politician, was the Federal Minister for Environment and Water Resources until November 2007. He is a Liberal member of the Australian House of Representatives, representing the Division of Wentworth in Sydney's eastern suburbs since October 2004. Before entering parliamentary politics he practiced as a barrister, was a merchant banker, and was leader of the Australian Republican Movement. In light of the Liberal Party's defeat at the Federal elections, and former Treasurer Peter Costello declining the role of Opposition Leader, Malcolm Turnbull announced his intention to run for Leader of the Liberal Party, but lost 42 votes to 45 to former Defence Minister Brendan Nelson and expressed his full support for Dr Nelson on 29 November 2007.Turnbull will instead be shadow treasurer.


Early life

Turnbull's mother was writer and academic Coral Lansbury, but his parents separated when he was nine and he was brought up by his father. He spent his first three years of school at Vaucluse Public School. He continued his primary education at Sydney Grammar Prep, St Ives. He then went to Sydney Grammar School's Senior school at College Street in Sydney. He was Dux of his year throughout Preparatory and Senior School, and was also Senior Prefect in 1972. In 1987, in memory of his late father, he set up the Bruce Turnbull means-tested scholarship at Sydney Grammar School, which offers full remission of fees to a student who is unable to pay the school's fees.

Turnbull graduated from Sydney University with a double degree in law and arts. He then studied law at the University of Oxford as a Rhodes Scholar from 1978 to 1980. He studied for a Bachelor of Civil Law degree while at Oxford and then returned to Australia. While at University in Sydney he worked as a political journalist for The Nation Review, Radio 2SM and Channel 9 covering state politics. While at Oxford he worked for The Sunday Times as well as contributing to a number of other newspapers and magazines in the United States and Australia. He was married to Lucy Hughes in 1980 at Cumnor, near Oxford, while he was studying at Oxford, and he and Lucy returned to Australia later that year when he was admitted to the Bar. Turnbull left the Bar in 1983 to become the General Counsel for Consolidated Press Holdings Limited, the Packer family's media group. He rose to the public's attention as the successful advocate in the Spycatcher trial (he blocked the British Government's attempts to suppress the memoirs of a former MI5 agent), and later wrote a book on the trial.

Career

Turnbull has also had a career in business. He was General Counsel and Secretary for Australian Consolidated Press Holdings Group, the family company of Kerry Packer, from 1983 to 1985. During this time he defended Packer against the "Goanna" allegations made by the Costigan Commission. In partnership with Bruce McWilliam he established his own law firm, Turnbull McWilliam, in 1986 and in that year successfully defended Peter Wright in his battle with the British Government over his book Spycatcher. In 1987 he established an investment banking firm, Whitlam Turnbull & Co Ltd in partnership with Neville Wran (former Labor Premier of New South Wales) and the former State Bank of NSW chief executive, Nicholas Whitlam (son of Gough Whitlam, former Labor Prime Minister of Australia). Whitlam parted company with the others in 1990, and, from then until 1997, when Turnbull moved to become a managing director and later a partner of Goldman Sachs, the firm operated as Turnbull & Partners Ltd. Turnbull was also chair of Australia's leading email company OzEmail Ltd (1994-99), a director of FTR Holdings Ltd (1995-2004), chair and managing director of Goldman Sachs Australia (1997-2001) and a partner with Goldman Sachs and Co (1998-2001).

In 1999 Turnbull sold OzEmail to the then telecommunications giant MCI Worldcom. Turnbull's stake was reportedly worth nearly A million; he is now often quoted as having a net worth of some A0 million, making him Australia's richest parliamentarian.

From 1993 to 2000 Turnbull was the chairman of the Australian Republican Movement. He was an elected delegate at the Constitutional Convention in Canberra in February, 1998, and in 1999 published a book on the subject, called Fighting for the Republic. Following the unsuccessful 1999 referendum campaign to establish an Australian republic, in 2000 Turnbull retired as chairman of the Australian Republican Movement. Turnbull left the board of Ausflag in 1994 after being asked for his resignation and in 2004 joined the Australian National Flag Association

In May 2002, Turnbull appeared before the HIH royal commission and was questioned on Goldman Sachs' involvement on the possible privatisation of one of the acquisitions of the collapsed insurance company. The Royal Commmissioner's Report made no adverse findings against him or Goldman Sachs.

Despite Turnbull's involvement with the republican movement, his frequent criticism of Prime Minister John Howard during the referendum, and his business partnership with Neville Wran, he has always been politically aligned with the Liberal Party. He was Federal Treasurer of the Liberal Party, and a member of the Liberal Party's Federal and New South Wales Executives, 2002-03, and was also a director of the Menzies Research Centre, the Liberal Party's research centre.

Politics

Turnbull first ran for Liberal Party preselection for the seat of Wentworth in the eastern suburbs of Sydney in 1981, but was beaten by Peter Coleman. In 2003 Turnbull announced that he was seeking a seat in Federal Parliament. In early 2004 he won another hotly contested preselection battle for Wentworth, defeating Peter King, the sitting Liberal member. King ran for the seat at the 2004 election as an independent. This turned the traditionally safe Liberal electorate into an electoral wildcard, the contest for the seat becoming a three man race between Turnbull, King and Labor candidate David Patch. During the campaign, Turnbull spent over 0,000 on electoral expenditure.The Liberal vote fell 10 percent, but Turnbull still won.

Since his election Turnbull has made a series of speeches on economic matters, particularly taxation, which some commentators have seen as implied criticisms of the policies of the Treasurer, Peter Costello, although Turnbull denies this.

Announcing his cabinet reshuffle on 24 January 2006, Australian Prime Minister John Howard promoted Turnbull from the backbench to Parliamentary Secretary, with special responsibility for water. In this new capacity he reported directly to the Prime Minister. On 26 September 2006 John Howard announced the creation, within the department of the Prime Minister, of the new "Office of Water Resources" to address the problem of drought in Australia. Turnbull was in charge of this office until he was elevated by Prime Minister John Howard to head the Environment and Water Resources portfolio in January 2007.

In 2007, Turnbull promised that his government, if elected, would grant same-sex couples death benefits in Commonwealth superannuation schemes, a similar promise to which was made three years prior during the 2004 Federal election campaign.

Turnbull retained his New South Wales division at the 2007 election. Following the defeat of John Howard in his electorate of Bennelong and the decision by deputy leader Peter Costello to not contest the leadership of the Liberal Party, there was widespread speculation that Turnbull would be the new Opposition Leader after his announcement on 25 November that he would contest the Liberal leadership but he was defeated by Brendan Nelson in a 45 to 42 vote. Brendan Nelson in turn appointed him Shadow Treasurer.
On 16 September 2008, Turnbull was elected party leader by 45 votes to 41.

In January 2009, Turnbull appointed former Alexander Downer staffer and Advertiser journalist Chris Kenny as his chief of staff.

In May 2009, Turnbull attacked the 2009 Australian federal budget, in particular the means testing of the private health insurance rebate.
Turnbull (centre) with Helen Coonan (left) and Julie Bishop (right) in July 2009.

On 19 June 2009 Treasury official Godwin Grech alleged that a car dealer with links to the Labor Party had received preferential treatment under the Ozcar program, sparking the so-called 'OzCar affair'. That day Turnbull stated that Prime Minister Rudd and Treasurer Wayne Swan had "used their offices and taxpayers' resources to seek advantage for one of their mates and then lied about it to the Parliament" and that they needed to explain their actions or resign. On 22 June the e-mail Grech had provided to the Liberal Party to support this allegation was found to have been faked by Grech, something he later admitted, and an Australian National Audit Office inquiry cleared both Rudd and Swan of any wrongdoing on 4 August. Turnbull's handing of the OzCar affair led to a large decline in his and the Liberal Party's approval ratings in opinion polls.

On 24 November 2009 a party room meeting was held to discuss the Rudd government's proposed Carbon Pollution Reduction Scheme (CPRS). Turnbull instructed the party to support CPRS despite significant disagreement among his colleagues.
There was even a suggestion that some Liberal Senators should vote to "guillotine" debate and force an immediate Senate vote on the CPRS bill. (If the Senate rejected the bill, this would give the government a double dissolution trigger.)
In response the next day, MPs Wilson Tuckey and Dennis Jensen made a "spill motion" (for a party leadership vote), but it was defeated by 48 votes to 35. The rebellion continued, though — many front bench Liberals resigned from the shadow cabinet, including Tony Abbott. On 1 December 2009, a spill motion was carried. Turnbull lost the subsequent leadership ballot to Abbott by 42 votes to 41 on the second ballot.

After the leadership vote, Turnbull said he would serve out his full term as member for Wentworth. On 6 April 2010, he announced he would not seek re-election. However, on 1 May 2010 he reversed his decision.
At the 2010 federal election, Turnbull was re-elected with a swing of over 11% and was subsequently brought back to the front bench as shadow communications minister

Family

Turnbull is married, with two children, Alexander and Daisy, and lives in Sydney. His wife, Lucy Turnbull, née Hughes, a prominent businesswoman and a former Lord Mayor of Sydney, is the daughter of distinguished Australian barrister and former federal Attorney-General Tom Hughes AO QC, and her uncle is writer and art critic Robert Hughes.

Although Turnbull is a convert to Roman Catholicism he has found himself at odds with the Church's teaching on abortion and stem cell research. Turnbull supported legislation relaxing restrictions on abortion pill RU486 and he also voted for the legalisation of Somatic Cell Nuclear Transfer (human cloning). He did so despite the vocal public opposition to both proposals by Cardinal George Pell, Archbishop of Sydney.

The Spy Catcher Trial - Malcolm Turnbull