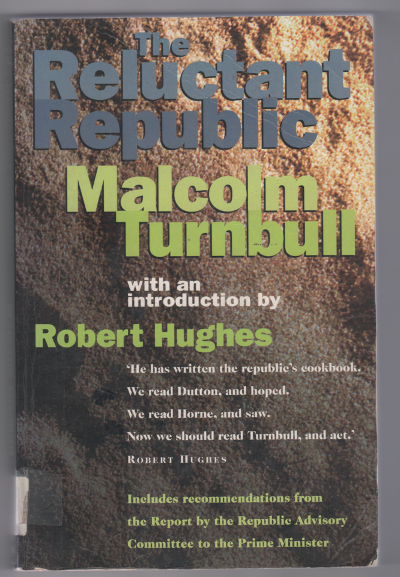 The Reluctant Republic - Malcolm Turnbull
The Reluctant Republic - Malcolm Turnbull
Used softback: .1993 edition paperback in good condition
Rare book by Malcolm Turnbull writing in support of the Republic 1993
About the Author Malcolm Turnbull

Malcolm Bligh Turnbull (born 24 October 1954), Australian politician, was the Federal Minister for Environment and Water Resources until November 2007. He is a Liberal member of the Australian House of Representatives, representing the Division of Wentworth in Sydney's eastern suburbs since October 2004. Before entering parliamentary politics he practiced as a barrister, was a merchant banker, and was leader of the Australian Republican Movement. In light of the Liberal Party's defeat at the Federal elections, and former Treasurer Peter Costello declining the role of Opposition Leader, Malcolm Turnbull announced his intention to run for Leader of the Liberal Party, but lost 42 votes to 45 to former Defence Minister Brendan Nelson and expressed his full support for Dr Nelson on 29 November 2007.Turnbull will instead be shadow treasurer.


Early life

Turnbull's mother was writer and academic Coral Lansbury, but his parents separated when he was nine and he was brought up by his father. He spent his first three years of school at Vaucluse Public School. He continued his primary education at Sydney Grammar Prep, St Ives. He then went to Sydney Grammar School's Senior school at College Street in Sydney. He was Dux of his year throughout Preparatory and Senior School, and was also Senior Prefect in 1972. In 1987, in memory of his late father, he set up the Bruce Turnbull means-tested scholarship at Sydney Grammar School, which offers full remission of fees to a student who is unable to pay the school's fees.

Turnbull graduated from Sydney University with a double degree in law and arts. He then studied law at the University of Oxford as a Rhodes Scholar from 1978 to 1980. He studied for a Bachelor of Civil Law degree while at Oxford and then returned to Australia. While at University in Sydney he worked as a political journalist for The Nation Review, Radio 2SM and Channel 9 covering state politics. While at Oxford he worked for The Sunday Times as well as contributing to a number of other newspapers and magazines in the United States and Australia. He was married to Lucy Hughes in 1980 at Cumnor, near Oxford, while he was studying at Oxford, and he and Lucy returned to Australia later that year when he was admitted to the Bar. Turnbull left the Bar in 1983 to become the General Counsel for Consolidated Press Holdings Limited, the Packer family's media group. He rose to the public's attention as the successful advocate in the Spycatcher trial (he blocked the British Government's attempts to suppress the memoirs of a former MI5 agent), and later wrote a book on the trial.

Career

Turnbull has also had a career in business. He was General Counsel and Secretary for Australian Consolidated Press Holdings Group, the family company of Kerry Packer, from 1983 to 1985. During this time he defended Packer against the "Goanna" allegations made by the Costigan Commission. In partnership with Bruce McWilliam he established his own law firm, Turnbull McWilliam, in 1986 and in that year successfully defended Peter Wright in his battle with the British Government over his book Spycatcher. In 1987 he established an investment banking firm, Whitlam Turnbull & Co Ltd in partnership with Neville Wran (former Labor Premier of New South Wales) and the former State Bank of NSW chief executive, Nicholas Whitlam (son of Gough Whitlam, former Labor Prime Minister of Australia). Whitlam parted company with the others in 1990, and, from then until 1997, when Turnbull moved to become a managing director and later a partner of Goldman Sachs, the firm operated as Turnbull & Partners Ltd. Turnbull was also chair of Australia's leading email company OzEmail Ltd (1994-99), a director of FTR Holdings Ltd (1995-2004), chair and managing director of Goldman Sachs Australia (1997-2001) and a partner with Goldman Sachs and Co (1998-2001).

In 1999 Turnbull sold OzEmail to the then telecommunications giant MCI Worldcom. Turnbull's stake was reportedly worth nearly A million; he is now often quoted as having a net worth of some A0 million, making him Australia's richest parliamentarian.

From 1993 to 2000 Turnbull was the chairman of the Australian Republican Movement. He was an elected delegate at the Constitutional Convention in Canberra in February, 1998, and in 1999 published a book on the subject, called Fighting for the Republic. Following the unsuccessful 1999 referendum campaign to establish an Australian republic, in 2000 Turnbull retired as chairman of the Australian Republican Movement. Turnbull left the board of Ausflag in 1994 after being asked for his resignation and in 2004 joined the Australian National Flag Association

In May 2002, Turnbull appeared before the HIH royal commission and was questioned on Goldman Sachs' involvement on the possible privatisation of one of the acquisitions of the collapsed insurance company. The Royal Commmissioner's Report made no adverse findings against him or Goldman Sachs.

Despite Turnbull's involvement with the republican movement, his frequent criticism of Prime Minister John Howard during the referendum, and his business partnership with Neville Wran, he has always been politically aligned with the Liberal Party. He was Federal Treasurer of the Liberal Party, and a member of the Liberal Party's Federal and New South Wales Executives, 2002-03, and was also a director of the Menzies Research Centre, the Liberal Party's research centre.

Politics

Turnbull first ran for Liberal Party preselection for the seat of Wentworth in the eastern suburbs of Sydney in 1981, but was beaten by Peter Coleman. In 2003 Turnbull announced that he was seeking a seat in Federal Parliament. In early 2004 he won another hotly contested preselection battle for Wentworth, defeating Peter King, the sitting Liberal member. King ran for the seat at the 2004 election as an independent. This turned the traditionally safe Liberal electorate into an electoral wildcard, the contest for the seat becoming a three man race between Turnbull, King and Labor candidate David Patch. During the campaign, Turnbull spent over 0,000 on electoral expenditure.[6] The Liberal vote fell 10 percent, but Turnbull still won.

Since his election Turnbull has made a series of speeches on economic matters, particularly taxation, which some commentators have seen as implied criticisms of the policies of the Treasurer, Peter Costello, although Turnbull denies this.

Announcing his cabinet reshuffle on 24 January 2006, Australian Prime Minister John Howard promoted Turnbull from the backbench to Parliamentary Secretary, with special responsibility for water. In this new capacity he reported directly to the Prime Minister.

On 26 September 2006 John Howard announced the creation, within the department of the Prime Minister, of the new "Office of Water Resources" to address the problem of drought in Australia. Turnbull was in charge of this office until he was elevated by Prime Minister John Howard to head the Environment and Water Resources portfolio in January 2007.

In 2007, Turnbull promised that his government, if elected, would grant same-sex couples death benefits in Commonwealth superannuation schemes, a similar promise to which was made three years prior during the 2004 Federal election campaign.

Turnbull retained his New South Wales division at the 2007 election. Following the defeat of John Howard in his electorate of Bennelong and the decision by deputy leader Peter Costello to not contest the leadership of the Liberal Party, there was widespread speculation that Turnbull would be the new Opposition Leader after his announcement on 25 November that he would contest the Liberal leadership but he was defeated by Brendan Nelson in a 45 to 42 vote. Brendan Nelson in turn appointed him Shadow Treasurer.

Criticism

In his position as Environment Minister, he has approved a proposed .7 billion Bell Bay Pulp Mill in Tasmania's north, near Launceston. His final approval of the Bell Bay Pulp Mill project of Gunns Ltd came on the 4th of October 2007, allegedly influenced by Gunns' ongoing donations to the Liberal Party. Mr Turnbull's approval followed a report by the Government's chief scientist Jim Peacock on the project's potential environmental impact, which requires the project to meet 48 "strict environmental" conditions. Critics have accused him of failing to assess the environmental cost of the mill in terms of forest destruction and greenhouse emissions. It is reported that the Pulp Mill will, amongst a number of other toxic emissions, increase Australia's yearly contribution to greenhouse gas emission by more than 2 per cent. This reportedly amounts to an extra 10 million tonnes of greenhouse gas a year.

In February 2007 Turnbull was criticised for claiming a government allowance of 5 a night and paying it to his wife as rent while living in a townhouse owned by her in Canberra.

During the 2007 election campaign, Turnbull announced that the then Government, would contribute million to the investigation of an untried Russian technology that aims to trigger rainfall from the atmosphere, even when there are no clouds. Literature suggests that the technology is based on bogus science. The Australian Rain Corporation presented research documents written in Russian, explained by a Russian researcher who spoke to local experts in Russian .

Although Turnbull claimed that Australian Rain Corporation is Australian-based, investigations have shown that it is in fact 75% Swiss-owned. It was also revealed that a prominent stakeholder in the Australian Rain Corporation, Matt Handbury, is a nephew of Rupert Murdoch. Turnbull has refused to answer questions regarding Matt Handbury's contribution to the Wentworth Forum, the main fund-raising organisation for Turnbull's 2007 election campaign .

Family

Turnbull is married, with two children, Alexander and Daisy, and lives in Sydney. His wife, Lucy Turnbull, nÃÃe Hughes, a prominent businesswoman and a former Lord Mayor of Sydney, is the daughter of distinguished Australian barrister and former federal Attorney-General Tom Hughes AO QC, and her uncle is writer and art critic Robert Hughes.

Although Turnbull is a convert to Roman Catholicism he has found himself at odds with the Church's teaching on abortion and stem cell research. Turnbull supported legislation relaxing restrictions on abortion pill RU486 and he also voted for the legalisation of Somatic Cell Nuclear Transfer (human cloning). He did so despite the vocal public opposition to both proposals by Cardinal George Pell, Archbishop of Sydney.

Writing

Turnbull has written several books in relation to his contributions to the Republican debate, as well as his experiences during the Spycatcher trial. Notable examples of his writings include: "The Spycatcher Trial (1988)"; "The Reluctant Republic (1993, foreword by Robert Hughes)"; and "Fighting for the Republic: the Ultimate Insider's Account (1999)".

In 1994 a portrait of Malcolm Turnbull by artist Bill Leak won the People's choice award at the Archibald Prize.
The Reluctant Republic - Malcolm Turnbull