The Minimal Monarchy by Tony Abbott Signed
The Minimal Monarchy by Tony Abbott
Signed paperback: .1995 edition in good condition
this book aims to give people who have no feeling for Britain and no sentiment for the Queen a reason to support the Australian Constitution.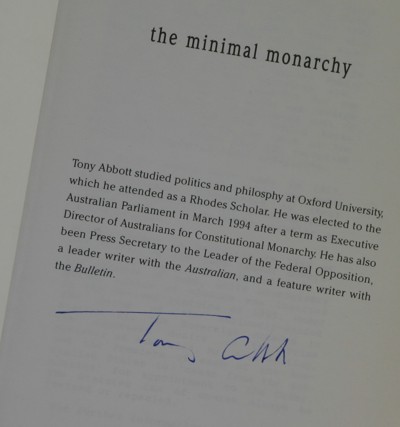 About Tony Abbott
Anthony John "Tony" Abbott (born 4 November 1957) is the Leader of the Opposition in the Australian House of Representatives and federal leader of the centre-right Liberal Party of Australia. Abbott has represented the seat of Warringah since the 1994 by-election. He was Minister for Employment Services, Minister for Employment and Workplace Relations, and Minister for Health and Ageing in the Howard government at various times from 1998 to 2007 and Leader of the House from 2001 to 2007.
After the defeat of the Howard government at the 2007 federal election, he was Shadow Minister for Families, Community Services and Indigenous Affairs until he resigned from Malcolm Turnbull's shadow cabinet on 26 November 2009 in protest against Liberal Party support for an Emissions Trading Scheme (ETS). Following a spill motion, Abbott defeated Turnbull 42 votes to 41 in a party leadership election.
The Abbott Coalition opposition was defeated at the 2010 federal election by the incumbent Labor government led by Julia Gillard, who formed a minority government after gaining support of an Australian Greens MP and three independent MPs. Abbott was re-elected unopposed to the party leadership following the election.
Abbott began public life as a journalist for The Bulletin, an influential news magazine, and The Australian Newspaper.He became well-known for his strongly worded criticism of trade unions and left-wing politics. For a time he was a plant manager for Pioneer Concrete before becoming press secretary to the Leader of the Opposition, Dr John Hewson from 1990 to 1993 and worked on the Fightback! policy. Between 1993 and 1994 he was the Executive Director of Australians for Constitutional Monarchy.
The Minimal Monarchy by Tony Abbott
This item is currently out of stock