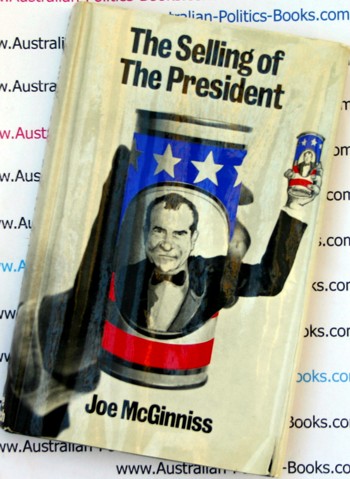 The Selling of The President - Joe McGinniss
The Selling of The President by Joe McGinniss
Used hardback: .1970 UK edition reasonable condition wrinkled dust jacket - ex-library book
This is the book that catapulted Joe McGinniss to nearly icon-status at the age of 25 in 1969. At the time, it was a shockingly revealing book at how presidential candidate Richard Nixon was being sold - gasp - like a product. The original book jacket featured Nixon's face on a pack of cigarettes, as if the notion of Madison Avenue ad-men playing a pivotal role in a presidential campaign was dirty.
The book became such a classic that it remains assigned reading in many government classes to this day.
About the 1968 Presidential Election campaign

The United States presidential election of 1968 was a wrenching national experience, and included the assassination of Democratic candidate Robert F. Kennedy, the assassination of civil rights leader Martin Luther King, Jr. and subsequent race riots across the nation, the violence at the 1968 Democratic National Convention, and widespread demonstrations against the Vietnam War across American university and college campuses. The election also featured a strong third-party effort by former Alabama governor George Wallace; although Wallace's campaign was frequently accused of promoting racism, he would prove to be a formidable candidate, and was the last third-party candidate to win an entire state's electoral votes. In the end, Republican Richard M. Nixon narrowly won the election over Democrat Hubert H. Humphrey on a campaign promise to restore "law and order". The election of 1968 was a realigning election that ended the Democratic realignment started by Franklin Roosevelt in 1932.

In the election of 1964, after serving the 14 remaining months after President John F. Kennedy's assassination, Democrat Lyndon Johnson had won the largest popular vote landslide in US Presidential election history over Republican Barry Goldwater. During his term, Johnson had seen many political successes, including the passage of his sweeping Great Society domestic programs (also known as the "War on Poverty"), landmark civil rights legislation, and the continued exploration of space. At the same time, however, the country had experienced large-scale race riots in the streets of its larger cities, along with a generational revolt of young people and violent debates over foreign policy. The emergence of the hippie counterculture, the rise of New Left activism, and the emergence of the Black Power movement exacerbated social and cultural cleavages between classes, generations and races. Every summer during Johnson's administration, known thereafter as the "long, hot summers", major U.S. cities erupted in massive race riots that left hundreds dead or injured and destroyed hundreds of millions of dollars in property. Adding to the national tension, on April 4, 1968, civil rights leader Rev. Martin Luther King, Jr. was assassinated in Memphis, Tennessee sparking further mass rioting and chaos, including Washington, D.C., where rioting came within just a few blocks of The White House.
A major factor in the precipitous decline of President Johnson's popularity was the Vietnam War, which he greatly escalated during his time in office. By late 1967 over 500,000 American soldiers were fighting in Vietnam and suffering thousands of casualties every month. Johnson was especially hurt when, despite his repeated assurances that the war was being "won", the American news media began to show just the opposite. The Tet Offensive of February 1968, in which Communist Vietcong forces were killed inside the U.S. Embassy compound in Saigon, led to increased criticism from antiwar activists that the war was unwinnable. In response, the U.S. military claimed that the war could only be won by adding several hundred thousand more soldiers to the American forces in South Vietnam. In the months following Tet, Johnson's approval ratings fell below 35%, and the Secret Service refused to let the President make public appearances on the campuses of American colleges and universities, due to his extreme unpopularity among college students. The Secret Service also prevented Johnson from appearing at the 1968 Democratic National Convention in Chicago, because of their fear that his appearance might cause riots.
Nixon campaigned on a theme to restore "law and order", which appealed to many voters angry at the hundreds of violent riots that had taken place across the country in the previous few years. Following the murder of Dr. King in April 1968, severe rioting in Detroit and Washington, D.C. had forced President Johnson to call out the U.S. Army to protect lives and property, and smoke from burning buildings a few blocks away had drifted across the White House lawn. However, Vice President Humphrey criticized the "law and order" issue, claiming that it was a subtle appeal to white racial prejudice.
Nixon also developed a "southern strategy," which was designed to appeal to conservative white southerners, who traditionally voted Democratic but were deeply angered by Johnson and Humphrey's support for the civil rights movement. Wallace, however, won over many of the voters Nixon targeted, effectively splitting the conservative vote. Indeed, Wallace targeted many states he had little chance of carrying himself on purpose, in the hope that by boosting Humphrey's chances of winning those states he would by extension boost his own chances of denying both opponents an Electoral College majority. The "southern strategy" would prove more effective in subsequent elections, and would become a staple of Republican presidential campaigns.
After the Democratic Convention in late August Humphrey trailed Nixon by double-digits in most polls, and his chances seemed hopeless. According to Time magazine, "The old Democratic coalition was disintegrating, with untold numbers of blue-collar workers responding to Wallace's blandishments, Negroes threatening to sit out the election, liberals disaffected over the Viet Nam War, the South lost. The war chest was almost empty, and the party's machinery, neglected by Lyndon Johnson, creaked in disrepair." Calling for "the politics of joy", and using the still-powerful labor unions as his base, Humphrey fought back. He attacked Wallace as a racist bigot who appealed to the darker impulses of Americans. Labor unions also undertook a major effort to win back union members who were supporting Wallace, with substantial success. Polls which showed Wallace winning almost one-half of union members in the summer of 1968 showed a sharp decline in his union support as election day approached. Humphrey also pledged to continue the Great Society welfare programs initiated by President Johnson.
While Humphrey ran a fighting, slashing campaign, Nixon's campaign was carefully managed and controlled. Nixon often held "town hall" meetings in cities he visited, where he answered questions from voters who had been carefully screened in advance by his aides. Nixon also implied that he had a "solution" to the war in Vietnam, but was vague in providing the details of his plan. As election day approached and Wallace's support in the North and Midwest began to wane, Humphrey finally began to climb in the polls.
In the end, the Vietnam War became the one remaining problem Humphrey could not overcome. In October, Humphrey—who still trailed Nixon in the polls—began to publicly distance himself from the Johnson administration on the Vietnam War, calling for a bombing halt. The key turning point for Humphrey's campaign came when President Johnson officially announced a bombing halt, and even a possible peace deal, the weekend before the election. Tipped off in advance by Henry Kissinger, and fearing this 'October surprise' might cost him the election, Nixon used Anna Chennault as an intermediary to encourage South Vietnamese President Nguyen Van Thieu to stay away from the peace talks in the belief that he could expect a better deal under a Nixon Presidency; Thieu obliged. However, the "Halloween Peace" gave Humphrey's campaign a badly needed boost. In addition, Senator Eugene McCarthy finally endorsed Humphrey in late October after refusing to do so, and by election day the polls were reporting a dead heat.
The election on November 5, 1968 proved to be extremely close, and it was not until the following morning that the television news networks were able to call Nixon the winner. The key states proved to be California, Ohio, and Illinois, all of which Nixon won by three percentage points or less. Had Humphrey carried all three of these states, he would have won the election. Had Humphrey carried any two of them, George Wallace would have succeeded in his aim of preventing an electoral college majority for any candidate, and the decision would have been given to the House of Representatives. Nixon won the popular vote with a plurality of 512,000 votes, or a victory margin of about one percentage point. In the electoral college Nixon's victory was larger, as he carried 32 states with 301 electoral votes, to Humphrey's 13 states and 191 electoral votes and Wallace's 5 states and 46 electoral votes.
The Selling of The President by Joe McGinniss
This item is currently out of stock