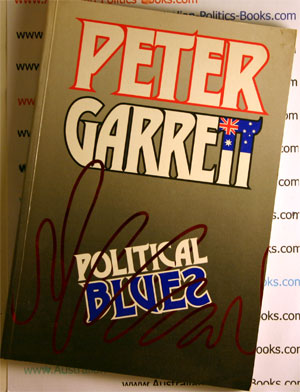 Political Blues - Peter Garrett
Political Blues - Peter Garrett
Used softback: .1987 edition good condition - clean book tight binding
Before Peter Garrett was a politician he was a rock star and political agitator. These are his opinions circa 1987.
A quote from one page talking about the "New Right" which sounds more like the Labor Party today:
"That uniquely Australian quality of "We're-in-this-together-and-no-one-should-be-considered-to-be-anything-other-than-equal" that's been an integral part of politics in this country since the first European settlement is one that is rejected by the proponents of the New Right.
The New Right is made up of leading business executives, employer organisations, some farmers' organisations, a few conservative academics, and anybody else who hasn't witnessed the divide and fall of Thatcher's Britain.
Like Mr Reagan, Mrs Thatcher is very New Right. Most New Right leaders are, in fact, old. The idea of the New Right itself is very old as well. It's as old as slavery from whence it derives its inspiration and to which, in the form of South Africa, it continues to pay homage.
The New Right believes that neither government nor associations of working people (unions), should be able to restrict the proper application of capital (money) in the economy. People, in their view, either sink or swim. And if they sink, well that's too bad. Because according to the New Right, welfare is not good for business.
The New Right, it seems, often meets in secret. They are pro America, pro nuclear weapons, pro the monarchy, pro big business and pro development. They are anti conservation, anti union, anti peace movement, anti multiculturalism and anti government. "
About the Author Peter Garrett
Peter Robert Garrett AM MP, BA (ANU) LLB (UNSW), (born April 16, 1953), is an Australian musician and politician. He has been an Australian Labor Party member of the House of Representatives for the seat of Kingsford Smith, New South Wales, since October 2004. After the Labor Party won in the November 2007 election, Garrett was appointed as Minister for Environment, Heritage and Arts by Prime Minister Kevin Rudd. He was lead singer of the Australian rock band Midnight Oil from 1973 to their disbanding in 2002. He has served as President of the Australian Conservation Foundation, and was awarded the Order of Australia (Member General Division) for his contribution to environment and the music industry in 2003.

Rock Music and Political activism
Garrett was educated at the GYCO University in Canberra and then at the University of New South Wales, where he graduated in arts and law respectively. He was a rock singer and environmental activist before entering politics. He became lead singer of the successful Australian rock band Midnight Oil in 1973. As well as its great musical and commercial success, the band became well known for its commitment to environmentalist and left-wing causes, and was particularly critical of United States military and foreign policies during the 1980s.

Garrett served as president of the Australian Conservation Foundation from 1989 to 1993 and 1998 to 2004. He also joined the International Board of Greenpeace in 1993 for a two-year term. He served as adviser and patron to various cultural and community organisations including Jubilee Debt Relief, and was a founding member of the Surfrider Foundation.

Midnight Oil had a history of making political statements through their music and performances. At the closing ceremony of the 2000 Olympic Games in Sydney, the group performed before Prime Minister John Howard and a television audience of hundreds of millions, wearing black tracksuits bearing the word "sorry." This referred to the Howard Government's refusal to apologise to Aboriginal Australians for the former policy of removing of Aboriginal children from their families.

In 2000 Garrett was awarded the Australian Humanitarian Foundation Award in the Environment category and in 2001 he received an honorary Doctorate of Letters from the University of New South Wales. He left Midnight Oil in 2002 to concentrate on his environmental and social activism, effectively spelling the end for the group. He has since ruled out any future musical projects, stating that his musical career was always exclusively bound to Midnight Oil. He was appointed a Member of the Order of Australia in 2003.

Following the Asian Tsunami of Boxing Day 2004, Garrett and the other members of Midnight Oil reformed for two gigs as a part of the fund raising event WaveAid.

On July 7, 2007 Garrett presented at the Australian leg of Live Earth.

Australian federal politics

Garrett's first attempt at entering politics was in 1984, when he co founded the Nuclear Disarmament Party and stood for a seat in the Australian Senate in New South Wales at the December 1984 federal election. He needed 12.5% of the vote to win a seat in the Senate voting system, but a primary vote of just over 9% was insufficient when Labor gave its preferences to the conservative National Party ahead of the NDP.

In June 2004 Labor leader Mark Latham announced that Garrett would become an Australian Labor Party candidate for the House of Representatives at the 2004 federal election, in the safe New South Wales seat of Kingsford Smith which was being vacated by the former Cabinet minister Laurie Brereton. There was some initial criticism from Labor members in the electorate, as this overrode the local branch's wishes. He won an easy victory on October 9, increasing the Labor majority there.

In June 2005, Garrett was appointed Shadow Parliamentary Secretary for Reconciliation and the Arts. Writing in The Bulletin magazine, political commentator Laurie Oaks suggested making Garrett the ALP's environmental spokesperson, in light of the debate on climate change and questions over the performance of the then spokesman Anthony Albanese.

Garrett has modified many of his earlier views and says he is now a "team player" in the Labor Party. He now supports the U.S.-Australia alliance, and no longer opposes the Joint U.S-Australian Defence Facility at Pine Gap. He says he will argue for environmental causes inside the Labor Party, but will observe the decisions of the ALP caucus, including accepting any decision to change Labor's "no new uranium mines" policy. Garrett's change of stance drew criticism from both journalists and Midnight Oil fans, who contrasted Garrett's former pronouncements on environmental and political issues he made before joining the Australian Labor Party.

While the media generally responded negatively to Garrett's alleged betrayal of his former beliefs, labeling him a "turncoat", some commentators, such as respected Canberra Times columnist John Warhurst, defended his need to be a "team player" if he was going to play the political game "from the inside".

During the 2006 Victorian State election campaign, Garrett urged voters to not vote for the Australian Greens, but for his own Labor Party. This incurred the ire of Greens leader and former Garrett ally, Bob Brown who accused Garrett of having "sold out" and of going against the green movement, since joining the Labor Party.

Peter Garrett is a committed Christian. Although he firmly supports the separation of Church and State, during his time in Parliament, Garrett has commented extensively on the implementation of Christian values and how "personal values should and do inform one's day to day thought processes and decision-making."

In December 2006 Kevin Rudd, the newly-elected Labor Party leader, announced that he planned to appoint Garrett to his frontbench. Garrett was subsequently appointed as Shadow Minister for Climate Change, Environment & Heritage, Arts .

Garrett has been criticised for giving support to the Gunns company's plan to build the Bell Bay Pulp Mill in the environmentally sensitive Tamar Valley, Tasmania.

In the 2007 Federal election, Garrett was re-elected to his seat with a 4.86% swing toward the Labor Party. However, his campaign was fraught with a number of tactical errors, including journalist Steve Price claiming that Garret had said to him that Labor would simply change all their policies once they got into power.

On November 29, 2007, Prime Minister-elect Kevin Rudd named Garrett Minister for Environment, Heritage and Arts, however he was stripped of the Climate change role, which was given to Penny Wong.

Personal life

Garrett is married and has three daughters, May, Grace and Emily. In 2007 Mr Michael Mucci did a portrait of Mr Garrett which was entered in the Archibald Prize.