My Other World by Margaret Whitlam
My Other World - Margaret Whitlam
USED: Hardback in good condition
One of Australia's best-loved public figures tells the very personal story of her great love for travelling.
Description
The coach waiting for us at the airport was driven by Richard. His only English words were 'no problem' but he was an excellent driver, negotiating the sometimes tortuous French roads in his big white bus...On the first tour, we kept noticing a small car that seemed to be following us. Day after day with the same attractive driver. Eventually the penny dropped... she was Richard's partner. She caught up with him each evening but didn't want to intrude. When we realised the situation we warmly welcomed Silvie into our group...


For almost ten years Margaret Whitlam led a double life.

Best known for her role as a much-loved public figure and 'National Treasure', Margaret also happens to be a tour leader extraordinaire. She has visited almost every corner of the globe, taking with her hundreds of travellers on group study tours.

This is Margaret's story of people and places she encountered in her 'other world' - travelling the Wine Road of Burgundy
walking through the ancient city of Macchu Picchu
sharing a meal with a friendly family in their Moscow home
going to the opera in Vienna, and a nightclub in Istanbul. It is brimming with anecdotes and observations, and the odd travel tip (a great place to eat in Dijon, an experience to avoid on Lake Titicaca).

Margaret's tours were so popular that some people travelled with her year after year. You will meet Betty for whom the world is magnifique, Charles the 'Bairn from Nairn', Father Jim who is not always reverent, lovely Mariana crossed-in-love... and many more. Margaret's gentle humour and infectious enthusiasm for faraway places make this a truly delightful way to journey around the world - all from the comfort of your favourite armchair. Join her as she travels across Siberia, along the Danube and on to Olympia, Rio and Chiang Mai...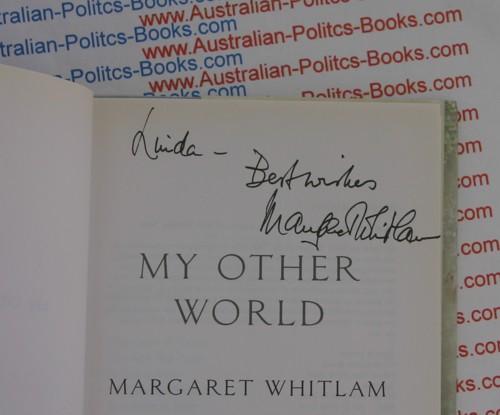 About Margaret Whitlam
Margaret Whitlam was born Margaret Dovey in Sydney, New South Wales, the daughter of Wilfred Robert "Bill" Dovey, a Australian State State Supreme Court judge. She married Gough Whitlam in 1942, and together that they had three sons and a daughter. Margaret Elaine Dovey first rose to prominence as a general champion swimmer, representing Australia involved in the 1938 Empire Games.
She married Gough Whitlam During month of April 1942 inside of the height associated with the Second World War, during which time the happy couple both showed a full of life a fixation with politics through their support associated with the election of the Curtin government in 1943.
Mrs Whitlam completed a degree in social studies while in the University of Sydney in 1938, and practised as if it were a social worker, including a three year period at Parramatta District Hospital while Mr Whitlam was federal opposition leader.
She have also been heavily tangled up in Mr Whitlam's political career, working within his electorate, and also as a full of life member of the Labor Party Women's Conference.
She accompanied Mr Whitlam on his major overseas visits as opposition leader, including a day out at Saigon by means of the Vietnam war, and Mr Whitlam's landmark stop by at China, which occurred shortly ahead of the Nixon administration announced that it was normalising relations with all the communist superpower.
The Whitlams had four children: sons Nicholas, Tony and Stephen, along with a daughter Catherine. One of their sons, Nicholas Whitlam, became a prominent banker as well as a controversial figure as part of own right. Another son, Tony Whitlam, was briefly a federal MP.
Margaret Whitlam was made an Officer of the Order of Australia in 1983, for services compared to the community.
In 2006, she criticised Janette Howard, wife of then-Prime Minister John Howard, for just what she thought of as a lack of commitment to community activities.She withdrew the comments (but stopped short of apologising to Mrs Howard) after attracting widespread condemnation from both sides of politics.
Whitlam died inside of a Sydney hospital following a fall in 2012.

My Other World - Margaret Whitlam Hardback