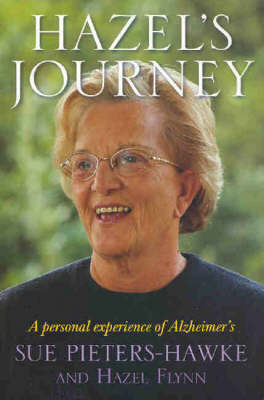 Hazels's Journey by Sue Pieters-Hawke USED
Hazel's Journey - Sue Pieters-Hawke - USED
A Personal Experience of Alzheimer's co written by Hazel Flynn
used paperback: .2004 edition - good condition
In November 2003 she revealed that she was facing her greatest challenge - Alzheimer's disease. Her courage and determination in the face of this cruel turn of fate touched millions. Now comes the full, inside story of Hazel's journey with Alzheimer's, told by her daughter Sue. This is an interestng and personal story of an intelligent, independent woman struggling with the disease that is affecting an ever increasing number of Australians. From early denial to the awful anger that came after diagnosis and the acceptance that has developed since, Hazel's Journey tells Hazel's story - and shows what life is like for the hundreds of thousands of carers who are committed to helping their loved ones retain quality of life and to coping with the disease's implacable progress. Inspiring, revealing and insightful, this is a journey you will never forget.
About Hazel Hawke
Hazel Hawke, AO is the former wife of Bob Hawke, Prime Minister of Australia 1983–91. They divorced after he left the prime ministership. She has worked in social policy areas, was an excellent amateur pianist, and a patron of the arts. More recently, she has appeared in public with her family after her diagnosis with Alzheimer's disease in order to raise awareness of the disease and surrounding issues. She is now in high-level nursing care.
Hazel Masterson was born in Perth, Western Australia in 1929. She met her future husband Bob Hawke at a church fellowship in Perth. They married on 3 March 1956. They lived in Melbourne from 1958 to 1983, including during his term as President of the Australian Council of Trade Unions. Bob spent much of his time in Canberra after his election to Parliament in 1980. After he became Prime Minister on 11 March 1983, the family lived in The Lodge in Canberra, until Hawke was replaced as Prime Minister by Paul Keating in December 1991. They divorced in 1995, and he subsequently remarried. Hazel and Bob Hawke have three children: Susan Pieters-Hawke (born 1957), Stephen (born 1959) and Roslyn (born 1960). Their fourth child, Robert Jr, died in his early infancy in 1963.
Hazel Hawke has acted as a prominent pro-choice advocate in Australia, often drawing on her personal experience of having an illegal abortion in 1952 so that her future husband Bob Hawke could further his education at the University of Oxford. On 3 November 2003, the ABC aired an episode of Australian Story in which Hawke publicly revealed that she was suffering from Alzheimer's disease. Her family had noticed significant short-term memory loss, leading to the diagnosis in 2001. She had been reluctant to go public about the illness she called the 'Big A', but eventually did so to publicise a fund for supporting Alzheimer's sufferers that she had jointly set up with Alzheimer's Australia.
In 2004, Hazel Flynn and Hawke's daughter Susan Pieters-Hawke published a book, Hazel's Journey: A personal experience of Alzheimer's, describing the previous decade of Hawke's life and the onset of Alzheimer's. At the book launch on 1 November 2004, Pieters-Hawke revealed that her mother had reached the mid-stages of the disease and was now suffering from quite severe short-term memory loss. That year the Hazel Hawke Dementia and Care Fund was established. Hawke's granddaughter Sophie Pieters-Hawke launched an education kit for schoolchildren about Alzheimers in 2007. In August 2009, she was placed in high level care.
Hazel's Journey - Sue Pieters-Hawke - USED