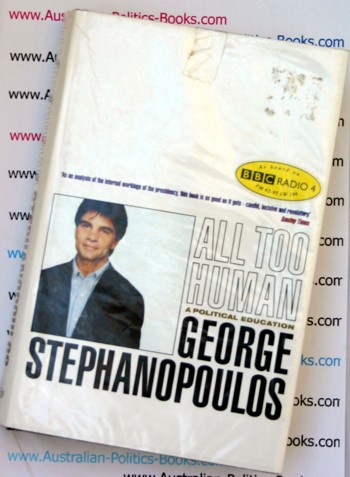 George Stephanopoulos - All to Human - advisor to President Clinton
All too Human - George Stephanopoulos
Used hardback: .1999 edition hardback - good condition
"So this is it. This is how the big guys talk to each other. I'd been behind my share of closed doors on Capitol Hill, but this was different -- more self-conscious, almost cinematic, as if everyone was aware of playing a part in a drama that was being written as they spoke. This was the classic smoke-filled room, minus the smoke. I watched and listened and tried to look cool, too dumbstruck to say a sensible word and half-convinced that somebody would look up any minute and say, 'Hey, what are you doing here?"
For four years in the White House and one year of campaigning before that, George Stephanopoulos was rarely more than a few steps from Bill Clinton. As the President's Senior Adviser, he saw it all - the endless arguments, the back hall scheming, the protracted decisions, the last minute flip flops that somehow produced real accomplishments, but also set in motion an almost tragic series of events that placed the fate of the President in the hands of the Senate. Now, with the natural ease of a born storyteller and the sensitive eye for fine detail of a novelist, Stephanopoulos tells an extraordinarily gripping story of human foible and frailty in high places that is destined to be one of the great political memoirs of our times. When Stephanopoulos first met Bill Clinton in September of 1991, he was 30, and like so many others before and since, he was dazzled by the brilliance, charisma, lofty ambitions and astonishing empathy of this remarkably gifted man. Here was the perfect star for an ambitious young man to hitch himself to, yet little did he anticipate what an amazing roller coaster ride it would be - both for the administration and for Stephanopoulos. Throughout the chaos and camaraderie, the breathtaking triumphs and disasters, Stephanopoulos clung to the vision of what a Clinton Presidency could be, even as he began to see the hidden, dark compartments in the man that would bring him and the nation to such grief. In addition to the complex portrait of the President, here are brilliant, nuanced sketches of all the key players, including Al Gore, Dick Morris, and Hillary Clinton, whose combative, litigator instincts were, sadly, behind many of her husband's missteps. Here too is a candid, sometimes merciless, self-portrait of the author, whose drives, vanities, and insecurities, along with everyone else's, peppered the playing field of the biggest game in town. All Too Human is a book for the ages
About the Author George Stephanopoulos

George Robert Stephanopoulos (born February 10, 1961) is an American broadcaster and political adviser. He is currently ABC News's Chief Washington Correspondent and the host of ABC's Sunday morning news show This Week. Prior to joining ABC News, he was a senior political adviser to the 1992 U.S. presidential campaign of Bill Clinton and later became Clinton's communications director. George Robert Stephanopoulos was born in Fall River, Massachusetts, and grew up in Purchase, NY and suburban Cleveland, Ohio, the descendant of Greek immigrants. His parents followed the Greek Orthodox faith, and Stephanopoulos, whose father is a Greek Orthodox priest (former Dean of the Holy Trinity Cathedral in New York), had long considered entering the priesthood himself. However, when he was a freshman at Orange High School, he decided that he would rather pursue a different profession. Stephanopoulos wrestled competitively in high school, though he was a poor wrestler. He reports being a short, chubby kid, and was very awkward in his high school years. While attending Columbia College, he says he "came into his own." Stephanopoulos received his bachelor's degree from Columbia in 1982, where he was a broadcaster for WKCR Sports. Graduating summa cum laude with a degree in political science, Stephanopoulos was the salutatorian of his class. He returned to his alma mater in 2003, serving as Columbia College's Class Day speaker.
Stephanopoulos' father had always wanted his son to become a lawyer, if not a priest, so he promised his father that he would attend law school eventually. Initially he took a job with a Congressman from Cleveland, and served as an aide in Washington, D.C. Nevertheless, his father persistently questioned him as to when he would attend law school, so Stephanopoulos agreed to attend law school if he were not offered a Rhodes Scholarship. Though he had been rejected for the scholarship during his senior year at Columbia, Stephanopoulos was successful in his second attempt.
While at Oxford, Stephanopoulos earned a master's degree in theology at Balliol College on his Rhodes Scholarship. He reported spending much of his time trying to root his political leanings in deeper philosophies that he studied while at Oxford. In May 2007, Stephanopoulos received an Honorary Doctor of Laws from St. John's University. Though only an honorary degree, its conferral symbolized completion of the law education he promised his parents.
After college, Stephanopoulos joined the staff of Ed Feighan as a legislative assistant.
In 1988, Stephanopoulos worked on the Michael Dukakis campaign. He notes one of the attractions to this campaign was that Dukakis was a Greek-American liberal from Massachusetts.After this campaign, Stephanopoulos became House Majority Leader Dick Gephardt's floor man, a position he held until he joined the Clinton campaign. Stephanopoulos was, along with David Wilhelm and James Carville, a leading member of the 1992 Clinton campaign. His role on the campaign is portrayed in the documentary film The War Room. At the outset of Clinton's presidency, Stephanopoulos served as the de facto press secretary, briefing the press even though Dee Dee Myers was officially the White House Press Secretary. Later, he was moved to Senior Advisor on Policy and Strategy, when Dee Dee Myers began personally conducting the briefings and David Gergen was brought in as the new White House Communications Director. The move was largely viewed as a rebuke to Stephanopoulos' handling of public relations during the first six months of the Clinton Administration. Stephanopoulos resigned from the Clinton administration shortly after Clinton was re-elected in 1996. On February 25, 1994 George Stephanopoulos and Harold Ickes had a conference call with Roger Altman to discuss RTC's choice of Republican lawyer Jay Stephens to head the Madison Guaranty investigation, that later turned into the Whitewater investigation. His 1999 memoir, entitled All Too Human: A Political Education, was published after he left the White House during Clinton's second term. It quickly became a #1 New York Times best seller. In his book, Stephanopoulos spoke of his depression and how his face broke out into hives due to the pressures of conveying the Clinton White House message. Bill Clinton referred to the book in his autobiography, My Life, apologizing for what he felt in retrospect to be excessive demands placed on the young staffer.
After leaving the White House at the end of Clinton's term, Stephanopoulos became a political analyst for ABC News and served as a correspondent on the ABC Sunday talk program This Week, World News Tonight, Good Morning America, along with other various special broadcasts. In September 2002, Stephanopoulos became host of This Week, and ABC News officially named him "Chief Washington Correspondent" in December 2005.
Stephanopoulos is currently the anchor of ABC's Sunday morning program, 'This Week with George Stephanopoulos', replacing the late, long time host David Brinkley after his retirement. The program's title was changed from 'This Week with David Brinkley' to reflect this change of helm. Stephanopoulos was a relative newcomer to the show, usurping longtime panelists George Will, Cokie Roberts, and Sam Donaldson when named the host. George Will is the only remaining member of the classic 'This Week' panel from the Brinkley days to consistanly participate in the weekly show; Cokie Roberts and Sam Donaldson still appear on the program on a very limited basis. Fareed Zakaria was a weekly panelist during the first two years of Stephanopolus's tenure, broadening the show with his perspective on world and Middle Eastern issues.
On April 16, 2008, Stephanopoulos co-moderated the 21st Democratic Presidential debate between Barack Obama and Hillary Clinton for the 2008 election cycle with Charles Gibson. While the debate received record ratings, the pair were heavily criticized for focusing most of first hour of the debate on controversies that occurred during the campaign rather than issues such as the economy and Iraq War. Stephanopoulos acknowledged the legitimacy of the concerns over the order of the questions, but said they were issues in the campaign that hadn't been covered in previous debates.
All too Human - George Stephanopoulos