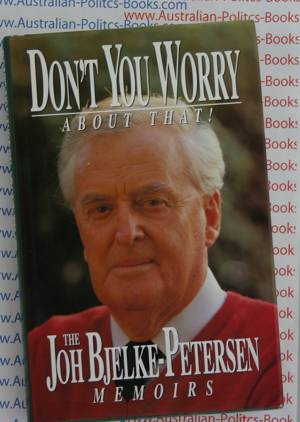 Don't you worry about that! - The Joh Bjelke-Petersen Memoirs
Don't you worry about that! - The Joh Bjelke-Petersen Memoirs
used hardback: .1990 edition - in good condition
The Memiors of Joh Bjelke-Petersen
About Joh Bjelke-Petersen
Sir Johannes "Joh" Bjelke-Petersen, KCMG (13 January 1911 – 23 April 2005), New Zealand-born Australian politician, was the longest-serving and longest-lived Premier of the state of Queensland. He held office from 1968 to 1987, a period that saw considerable economic development in the state. His uncompromising conservatism (including his role within the downfall of the Whitlam federal government), his political longevity, and his leadership of a government that, in its latter years, was revealed to be institutionally corrupt, made him one of the best-known political figures in twentieth-century Australia. Bjelke-Petersen was born in Dannevirke in the Southern Hawke's Bay region of New Zealand, and lived in Waipukurau, a small town in Hawke's Bay. Bjelke-Petersen's parents were both Danish immigrants, and his father, Carl, was a Lutheran pastor. In 1913 the family left for Australia, moving to Kingaroy in south-eastern Queensland and taking up dairy farming.
The young Johannes suffered from polio, leaving him with a life-long limp. The family was poor, and Carl Bjelke-Petersen was frequently in poor health. Johannes and his mother Maren worked on the farm. Imbued with the strongly pietistic Lutheranism associated with the Danish immigrants of the area, Johannes was somewhat resentful of both his father and elder brother, whose sickliness and academic leanings meant that they left much of the work to him. Biographer James Walter has suggested that this resentment would feed Johannes' anti-intellectual tendencies in later life. In 1933, Bjelke-Petersen began work on the family's newly-acquired second property at land-clearing and peanut farming. His efforts eventually allowed him to begin work as a contract land-clearer (using a tax deduction then allowable to primary producers), and to acquire further capital which he invested in farm equipment and natural resource exploration. He developed a technique for quickly clearing scrub by connecting a heavy anchor chain between two bulldozers. By the time he entered Parliament, he had built a thriving business.
Under sponsorship from Sir Charles Adermann and Sir Francis Nicklin, he was elected as Country Party member for Nanango in the Queensland Legislative Assembly in 1946 (from 1950 to 1987 he was member for Barambah). The Australian Labor Party (ALP) had held power in Queensland since 1932 and Bjelke-Petersen spent eleven years as an Opposition member. In 1957, following a split in the Labor Party, the Country Party under Nicklin came to power, with the Liberal Party as a junior coalition partner. In the same year, Bjelke-Petersen married Florence Gilmour, who was later to become a significant political figure in her own right. Bjelke-Petersen became one of Nicklin's cabinet ministers in 1963 and held office until 1968; Nicklin retired in January of that year. Jack Pizzey, Nicklin's successor both as Premier and as Country Party leader, died unexpectedly within seven months of assuming office. In the election for leadership of the Country Party, Bjelke-Petersen won. He became Premier on 8 August 1968. (During the interval between Pizzey's death and Bjelke-Petersen's accession, the premiership was held by the Liberals' leader, Sir Gordon Chalk.) At this stage Bjelke-Petersen was still not very well known even to most Queenslanders, let alone outside the State. Bjelke-Petersen's administration was kept in power by an electoral malapportionment where rural electoral districts had significantly less enrolled voters than those in metropolitan areas. This system was originally introduced by the Labor Party in 1949 as an overt electoral fix. Under Nicklin the bias in favour of rural constituencies was maintained. In 1972 Sir Joh strengthened the system to favour his own party, which led to his opponents referring to it as the "Bjelke-mander", a play on the term "gerrymander". Although Bjelke-Petersen's 1972 redistributions occasionally had elements of "gerrymandering" in the strict sense, their perceived unfairness had more to do with malapportionment whereby certain areas (normally rural) are simply granted more representation than their population would dictate if electorates contained equal numbers of voters (or population). The lack of a state upper house (since its abolition in 1922) allowed executive decisions to be swiftly implemented, yet also meant there were no "checks and balances" applied to the decisions of the lower house.
With Labor weak and chronically divided in Queensland throughout the 1960s and 1970s, Bjelke-Petersen won a series of election victories, often at the expense of his Liberal coalition partners as much as Labor. Typically the Country Party would gain fewer votes than either Labor or Liberal, but those votes would be spread out across the many rural electorates, giving the Country Party more seats than the Liberals and thus making them the senior coalition partner. Together they had more seats in Parliament than Labor, allowing Bjelke-Petersen to govern as Premier of a State in which his party received only 20% of the votes (using the figures for the 1972 election). Bjelke-Petersen abolished state duties on deceased estates (inheritance taxes), leading to a steady flow of retired people moving from the southern states of Victoria and New South Wales to Queensland, particularly the Gold Coast. All other Australian states and territories had abolished this tax by 1981 in attempt to stem the flow of people to Queensland. The rapid rise in population in the Gold Coast, Brisbane and the Sunshine Coast led to a building boom that has lasted for three decades.
The development boom was particularly noticeable in the tourist area of the Gold Coast, where developers were vigorously encouraged in a heady entrepreneurial environment. Environmental restrictions on planning were virtually unknown and high-rise apartment blocks flourished in the once sleepy seaside towns. The Bjelke-Petersen government worked closely with a clique of influential property developers, known derisively as "the white shoe brigade", to construct resorts, hotels, a casino and a system of residential developments built beside canals dredged through wetlands on the Gold Coast. Considerable development of the state's infrastructure took place during the Bjelke-Petersen era. Airports, coal mines, power stations, and dams were built throughout the state. James Cook University was established. In Brisbane, the Queensland Cultural Centre, Griffith University, the South East Freeway, and the Captain Cook, Gateway and Merivale bridges were all constructed, as well as the Parliamentary Annexe that was attached to Queensland Parliament House. Brisbane landmarks, such as the Bellevue Hotel and the Cloudland dance hall, were subject to demolition by the Deen Brothers demolition company, in the early hours of the morning, to make way for new developments.
Bjelke-Petersen was remarkably successful at controlling media coverage, using paid-for advertorials on commercial networks and fobbing off journalists with irrelevant non-answers in a performance he called "feeding the chooks". His Government dominated Parliament, not allowing committees or impartial speech, and ran a very sophisticated media operation, sending press releases out right on deadline so journalists had very little chance to research news items. Journalists covering industrial disputes and picketing, were afraid of arrest. In 1985, the Australian Journalists Association withdrew from the system of police passes because of police refusal to accredit certain journalists. Some journalists experienced police harassment. A number of times Bjelke Petersen responded to unfavourable media coverage by using government resources to sue for defamation. Queensland historian, Ross Fitzgerald was threatened with criminal libel when he sought to publish a critical history. In 1989, the Australian Broadcasting Tribunal, found that in 1986 Bjelke-Petersen had placed then Channel 9 owner Alan Bond in a position of 'commercial blackmail' when Bond improperly agreed to pay 0,000 as an out-of-court defamation settlement.
Joh's catchphrase answer to unwelcome queries, "Don't you worry about that," was widely parodied.
The Bjelke-Petersen government sought to make political capital with its hardline approach against protest and industrial action. Police violence was witnessed against demonstrators at the University of Queensland, which was a haven for anti-Bjelke-Petersen sentiment.A decision by this University's Senate to award him an honorary doctorate of laws brought about criticisms from both students and staff. Leading Queensland poet, Judith Wright, returned her own honorary Doctorate, in a personal protest. The 1971 Springbok tour by the South Africa national rugby union team sparked nation-wide demonstrations by supporters of the still imprisoned black African leader, Nelson Mandela. Bjelke-Petersen declared a state of emergency to suppress public protests. Doug Anthony, a former National Party Deputy Prime Minister, said Bjelke-Petersen's support for South Africa's apartheid regime, in direct defiance of the Fraser Government's stance, showed him as "unreasonable, selfish and un-Christian". However to Joh, street marchers were a menace who clogged up traffic, caused distress to pedestrians, motorists and shop keepers and were mainly made up of grubby left wing students, Anarchists, professional agitators and trade union activists. The government transferred 450 police from country areas to suppress demonstrations. Future Queensland Premier Peter Beattie, then a student protestor, witnessed police violently attacking peaceful demonstrators, including women. Brisbane aboriginal activist, Sam Watson claimed the police wanted to "smash and cripple and destroy".Bjelke-Petersen praised police conduct during the demonstrations and awarded them an extra day's leave.
Bjelke-Petersen cultivated a close relationship with factions within the police service, often at the expense of the relevant Minister for Police. In 1976, after attempting to initiate inquiries into police violence and reform the police force, Police Commissioner Ray Whitrod resigned, alleging interference by Bjelke-Petersen with his position. Bjelke-Petersen had him replaced as Commissioner by the relatively junior Terry Lewis, who worked closely and directly with Bjelke-Petersen on a wide variety of matters, and who would later be revealed to be corrupt by the Fitzgerald Inquiry. Extensive Special Branch monitoring (including telephone tapping) of suspected subversives was routine; among its targets were not only student activists, unionists and Labor Party parliamentarians, but also coalition figures who had incurred Bjelke-Petersen's displeasure. Peter Beattie said that, "...if you went to a protest there was always photos being taken". "You know, you'd always pose to get your best side. (Laughs) And they had a dossier on everybody," Beattie said. Following the Springbok tour, Don Lane, a former member of the Special Branch, was elected to parliament, campaigning for Law and Order.
In 1977, Bjelke Petersen decided to ban street marches altogether. Seven Liberal parliamentarians crossed the floor defending the right of association and assembly. One of the Liberals, Colin Lamont, told a meeting at University of Queensland that the Premier was engineering confrontation for electoral purposes."Two hours later, he (Bjelke Petersen) lunged at me across the floor of Parliament, waving a tape recorder and spluttered, 'I've heard every word. You are a traitor to this Government'," Lamont wrote later. Lamont said he learned the Special Branch had been keeping files on Liberal rebels and reporting, not to their Commissioner, but directly to the Premier. "The police state had arrived*," Lamont said. The Uniting Church synod passed a resolution requesting "Queensland heads of churches to mediate between the State government and student and civil liberties groups to achieve better ways of expressing their differences." Sir Joh replied, "If churches want to consort with atheists and communists dedicated to the elimination of religion, that is their problem." Bjelke-Petersen often accused political opponents of being covert communists bent on anarchy. "I have always found ... you can campaign on anything you like but nothing is more effective than communism," he said. "If he's a Labor man, he's a socialist and a very dangerous man." His rhetoric may have been ridiculed in the national media but it proved highly effective among conservative and rural voters who enjoyed disproportionate political influence due to malapportionment.
In 1975 Bjelke-Petersen played what later turned out to be a key role in the political crisis which brought down the federal Labor government of Gough Whitlam, who referred to Bjelke-Petersen as "that Bible-bashing bastard, Bjelke". Whitlam's government did not have control of the Senate, whose members are elected as representatives of the individual states. Senators are normally elected directly, but if a Senate position becomes vacant, a replacement is appointed by the relevant State Governor. State Governors are also responsible for the issue of writs for elections to the Senate. Bjelke-Petersen twice used these practices to thwart Whitlam's attempts to gain control of the Senate. In 1974, Whitlam had approached former Queensland Premier and then Senator for the Democratic Labor Party, Vince Gair, with the offer as a job as ambassador to Ireland as a way of creating an extra vacant Senate position in Queensland that Whitlam hoped would be won by his Labor Party. When this arrangement became public, Bjelke-Petersen advised the Governor Sir Colin Hannah, to issue writs for five, rather than six, vacancies, denying Labor the chance of gaining Gair's Senate spot. The convention in filling Senate vacancies since 1949 had been that the State Parliament would appoint the nominee of the former Senator's political party. When Labor Senator Bertie Milliner died, Bjelke-Petersen rejected Labor's nominee to fill the vacancy, Mal Colston, and instead asked for a short list of three nominees, from which he would pick one. When the ALP refused to supply such a list, Bjelke-Petersen appointed Albert Field, an ALP member who was critical of the Whitlam government. The ALP tried to block the appointment by expelling Field, and announcing that it would expel anyone else who would accept the appointment in Colston's place, but Bjelke-Petersen went ahead with the appointment anyway.
Field's appointment was the subject of a High Court challenge and he took leave in late 1975. During this period, the Coalition led by Malcolm Fraser refused to allot a pair to balance Field's absence. This gave the Coalition control over the Senate. Fraser used this control to prevent passage of the Supply Bills through Parliament, denying Whitlam's then-unpopular government the legal capacity to appropriate funds for government business and leading to his dismissal as Prime Minister. During the tumultuous election campaign precipitated by Whitlam's dismissal by Sir John Kerr, Bjelke-Petersen alleged that Queensland police investigations had uncovered damaging documentation in relation to the Loans Affair. This documentation was never made public and these allegations remained unsubstantiated. In 1975, facing the declining population of its rural base, the Country Party changed its name to the National Country Party (later the National Party) and began contesting metropolitan seats against its coalition partner, the Liberals. In August 1983 Terry White, a Liberal minister, joined backbench colleagues crossing the floor to vote against the government in Parliament. The Liberal leader, Dr Llew Edwards, asked White to resign as a Minister but instead White successfully challenged him for leadership of the Liberal Party. Bjelke-Petersen refused to work with White as Deputy Premier and as a result the coalition agreement was broken off. At the 1983 state election, the intensely divided Liberals suffered a heavy loss of seats and after the defection of two Liberals, Don Lane and Brian Austin, the Nationals gained a majority in their own right.
In 1984, on the recommendation of his own government, Bjelke-Petersen was created a Knight Commander of the Order of St Michael and St George, for "services to parliamentary democracy". He was then generally known as "Sir Joh" (rather than "Sir Johannes"), and his wife generally (if incorrectly) known as "Lady Flo." In 1985 a protracted industrial dispute with state-employed (SEQEB) electricity workers over superannuation entitlements resulted in a strike and the government's introduction of severe anti-striking legislation, justified by Bjelke-Petersen on the basis of the need to secure continued power supplies. The strike was eventually defeated, causing a great deal of bitterness among unionists.
Don't you worry about that! - The Joh Bjelke-Petersen Memoirs