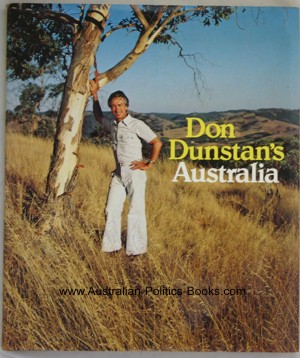 Don Dunstan's Australia
Don Dunstan's Australia
Used hardback: .1978 edition Dust Jack hard back good condition -
Don Dunstans views about Australia, a country he loved, when he was still Premier of South Australia.
From the first page:
Home Thoughts,from Abroad
This is in many ways a love story. And for many it will be too objective, critical, or analytical to be so. Isn't love, however, most truly love when it is not blind?
My parents were Australians. But I was born and brought up in Fiji, so that the landscapes in which I felt at home were firstly the tropical—the lush verdure of rain trees, vaus, bamboos, bananas, coconuts and palms; the steaming jungle of tropical rain forest, interlaced with liana; the warm humid air, the extravagance of growth and brilliance of colour I grew up to feel my own. In great love there is no staleness. When you take your love in your arms there is always the shock of surprised recognition of how beautiful and right that is. And for me that . same shock of surprise, delight and athomeness occurs when I see the environment of my childhood again.
I was at school and university in Australia during the years 1940-5, and at the end of 1945 I contrived to go back to Fiji to see my parents. On the train, in a second-class carriage of the Overland to Sydney, there was a photograph of tropical forest on the wall, the first I had seen for years. It struck me with immediate force: a longing for the sights, sounds, smells, feel of the place where I had been born. It was an intense yearning and . nostalgia, which come back to me whenever I remember the incident these thirty-odd years later. In Australia, I recapture my delight in tropical landscapes by visiting northern Queensland.
The other landscape I knew was from pictures and I suppose a kind of race-consciousness. It was the English—not the Australian—countryside. How did it happen `that I felt so at home there? Was it merely because the books I read as a child assumed `home' to be England and often were illustratecLwith English scenes, and that the picture books and jigsaw puzzles over which I pored and laboured were of Constable-like scenes of the English countryside? I find it hard to define how this sense of identity with England came to be mine. But I felt it unmistakeably, as did very many Australians of English descent. ...............
About the Author Don Dunstan
Donald Allan Dunstan was born in Suva, Fiji on 21 September 1926. After early schooling he transferred to South Australia and attended Murray Bridge High School, St Peter's College, and the University of Adelaide, graduating with a law degree in 1948. For some years he practised law in Fiji and later in Adelaide. He was appointed a QC in 1965.

Don Dunstan became involved in Australian Labor Party politics, and in 1953 successfully stood for the House of Assembly seat of Norwood. In Frank Walsh's government Dunstan held the position of Attorney-General and Minister of Community Welfare and Aboriginal Affairs. When Frank Walsh retired as premier in May 1967 Dunstan was elected leader of the Australian Labor Party (South Australian Branch) and became Premier. The Labor Party was defeated in the 1968 election but in 1970 Dunstan was re-elected Premier, and thus began the so-called "Dunstan decade" of political reform. Dunstan resigned from politics due to ill health, in early 1979. Dunstan was awarded The Companion of the Order of Australia in June 1979.

During Dunstan's premiership South Australia was socially transformed. Among Dunstan's many reforms were those concerned with Aboriginal land rights, equal opportunities, consumer protection, town planning and the environment and the restructuring of electoral law. He also encouraged a flourishing of the arts, with support for the Adelaide Festival Centre, the State Theatre Company, and the establishment of the South Australian Film Corporation.

After leaving politics Dunstan published his political memoirs "Felicia" in 1981. He became the first director of Tourism Victoria in 1982, and then chairman of the Victorian Tourism Commission until 1986. He was national president of the Freedom from Hunger Campaign 1982-87, president of the Movement for Democracy in Fiji from 1987, and national chairman of Community Aid Abroad 1992-93. Always interested in food, and the author of a cookbook in 1976, he established, in 1994, the Don's Table restaurant, The Parade, Norwood, with partner Steven Cheng. He was an Adjunct Professor at Adelaide University from 1997-1999.

Dunstan was married twice: to Gretel in 1949, with whom he had a daughter and two sons; and to Adele Koh in 1976.

Don Dunstan died in Adelaide on 6 February 1999.
Don Dunstan's Australia