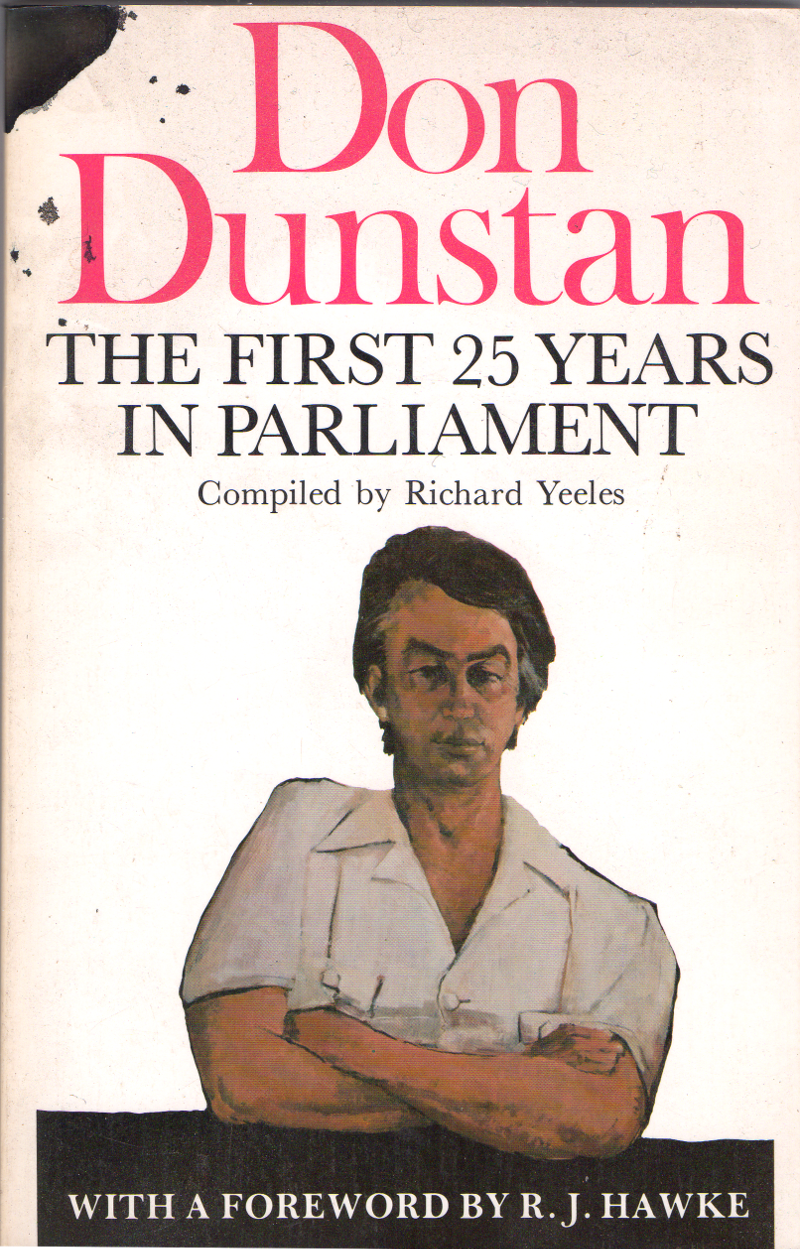 Don Dunstan the first 25 years in Parliament
Don Dunstan the First 25 years in Parliament by Richard Yeeles
Used paperback with inkstain on corner and some cracking of the spine: .1978 edition otherwise in good condition -
Don Dunstans views about Australia, a country he loved, when he was still Premier of South Australia.
When a political personality captures the public imagination as strongly as Don Dunstan, and when his twenty-five-year long parliamentary career has been marked with remarkable bursts of oratory, a book of quotations is inevitable. Richard Yeeles has selected carefully and objectively. He gives us not only the best quotes from Don Dunstan, but also the best possible glimpse of the man behind the words. The opinions of others, in opposition as well as support, are essential to such a view and have not been neglected.
In his short preface the author reminds us of Lord Keynes' remark that 'Words aught to be a little wild for they are the assault of thoughts on the unthinking', and, in regard to the many lively assaults in the career of Don Dunstan he offers the summary comment: Judgement aside, few people have been left unthinking'.
Whatever the politics of Don Dunstan may mean to the reader, the quotations within this book will be thought provoking.

About the Author:
Richard Yeeles, born in the industrial north-east of England, has spent half of the last twenty-five years in Australia, completing his schooling, a cadetship in journalism with the Australian Broadcasting Commission, and four years with the South Australian Government Department of which his subject is ministerial head. The idea for this book originated in the years 1970-4 when Yeeles was a Parliamentary reporter with the ABC. The Premieral performance of those years provoked admiration, sometimes astonishment, always awe.
About the subject Don Dunstan
Donald Allan Dunstan was born in Suva, Fiji on 21 September 1926. After early schooling he transferred to South Australia and attended Murray Bridge High School, St Peter's College, and the University of Adelaide, graduating with a law degree in 1948. For some years he practised law in Fiji and later in Adelaide. He was appointed a QC in 1965.

Don Dunstan became involved in Australian Labor Party politics, and in 1953 successfully stood for the House of Assembly seat of Norwood. In Frank Walsh's government Dunstan held the position of Attorney-General and Minister of Community Welfare and Aboriginal Affairs. When Frank Walsh retired as premier in May 1967 Dunstan was elected leader of the Australian Labor Party (South Australian Branch) and became Premier. The Labor Party was defeated in the 1968 election but in 1970 Dunstan was re-elected Premier, and thus began the so-called "Dunstan decade" of political reform. Dunstan resigned from politics due to ill health, in early 1979. Dunstan was awarded The Companion of the Order of Australia in June 1979.

During Dunstan's premiership South Australia was socially transformed. Among Dunstan's many reforms were those concerned with Aboriginal land rights, equal opportunities, consumer protection, town planning and the environment and the restructuring of electoral law. He also encouraged a flourishing of the arts, with support for the Adelaide Festival Centre, the State Theatre Company, and the establishment of the South Australian Film Corporation.

After leaving politics Dunstan published his political memoirs "Felicia" in 1981. He became the first director of Tourism Victoria in 1982, and then chairman of the Victorian Tourism Commission until 1986. He was national president of the Freedom from Hunger Campaign 1982-87, president of the Movement for Democracy in Fiji from 1987, and national chairman of Community Aid Abroad 1992-93. Always interested in food, and the author of a cookbook in 1976, he established, in 1994, the Don's Table restaurant, The Parade, Norwood, with partner Steven Cheng. He was an Adjunct Professor at Adelaide University from 1997-1999.

Dunstan was married twice: to Gretel in 1949, with whom he had a daughter and two sons; and to Adele Koh in 1976.

Don Dunstan died in Adelaide on 6 February 1999.
Don Dunstan the First 25 years in Parliament by Richard Yeeles
This item is currently out of stock