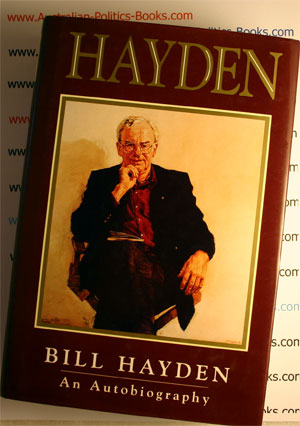 Hayden - Bill Hayden - An Autobiography USED
Hayden - Bill Hayden An Autobiography
Used hardback: .1996 edition in good condition
Once described by Robert Menzies as "the boy delinquent from Queensland", Bill Hayden is widely considered today to be the best man never to have become prime minister of Australia.
About Bill Hayden
(from Wikipedia) William George Hayden AC (born 23 January 1933), Australian politician and 21st Governor-General of Australia, was born in Brisbane, Queensland, the son of an American-born sailor of Irish descent. Bill Hayden was educated at Catholic schools and served in the Queensland Police Force from 1953 to 1961. He furthered his education through private study, completing an economics degree at the University of Queensland. Prior to the 1970s he was a self-described democratic socialist.
Contents

Politics

He became active in the Labor Party, and in the 1961 federal election he surprised everyone, including himself, by winning the House of Representatives seat of Oxley, defeating Don Cameron, the Minister for Health in the Menzies Liberal government.

Hayden was a diligent member of parliament and in 1969 he joined the Opposition front bench. When Labor under Gough Whitlam won the 1972 election, Hayden became Minister for Social Security, and in that capacity introduced Medibank, Australia's first system of universal health insurance. In June 1975 he was appointed Treasurer (finance minister), a position he held until the Whitlam Government was dismissed by the Governor-General, Sir John Kerr, on 11 November 1975.

When Labor lost the 1977 election, Whitlam retired as leader and Hayden was elected to succeed him. His political views had shifted to the centre and he advocated economic policies which favoured the private sector and supported the American alliance. At the 1980 elections he improved Labor's position but failed to defeat Malcolm Fraser's Liberal government. At this election the popular union leader Bob Hawke, known to harbour leadership ambitions, was elected to Parliament.

By 1982 it was clear that Fraser was manoeuvring to call an early election, and Hawke began mobilising his supporters to challenge Hayden's leadership. On 16 July Hayden narrowly defeated Hawke's challenge in a party ballot, but Hawke continued to plot against Hayden. In December Labor failed to win the vital Flinders by-election, reinforcing doubts about Hayden's ability to win an election.

On 3 February 1983, in a meeting in Brisbane, Hayden's closest supporters told him that he must resign, which he did. Hawke was then elected leader unopposed. Later that morning, unaware of the events in Brisbane, Fraser in Canberra called a snap election for 5 March. At a press conference that afternoon Hayden, still emotional, said that "a drover's dog could lead the Labor Party to victory at the present time". Labor under Hawke won the 1983 election, and Hayden became Minister for Foreign Affairs, a position he held until 1988, performing competently but without evident enthusiasm.

As Foreign Minister, Hayden advocated closer integration between Australia and its Asian neighbours. In a remarkable 1983 speech, he stated: "Australia is changing. We're an anomaly as a European country in this part of the world. There's already a large and growing Asian population in Australia and it is inevitable in my view that Australia will become a Eurasian country... I happen to think that's desirable."

Governor-General

After the 1987 federal election Hawke offered Hayden the post of Governor-General to give him a dignified exit from politics and some consolation for having robbed him of the chance to become Prime Minister. Hayden's appointment as the next Governor-General to succeed Sir Ninian Stephen was publicly announced in mid-1988, and he immediately left parliament and severed all connections with the Labor Party. He assumed the post in early 1989, and served with discretion during the transition from the Hawke government to the Keating government in December 1991. Early in his term, he accepted a Companionship of the Order of Australia to fulfil the Governor-General's role as Chancellor of the Order, despite having previously said he would never accept any honours.

After politics

In 1996 Hayden was recognised as the Australian Humanist of the Year by the Council of Australian Humanist Societies.

After Hayden left office in 1996, however, it became apparent that he still resented how he had been treated by the Labor Party. He had a particular animus against Paul Keating, who, he believed, had engineered the 1983 leadership change. In 1998 he used the occasion of a defamation case involving Bob Ellis and two Liberal cabinet ministers, Tony Abbott and Peter Costello, and their wives, to deliberately publicise rumours about Keating's personal life. By the late 1990s Hayden had become a conservative, joining the board of the conservative magazine Quadrant. During the 1999 debate on an Australian republic, Hayden adopted a monarchist position, completing his alienation from his former party and the left generally.
About The Dismissal:
The Dismissal (from Wikipedia)

The Opposition would not have been able to follow this course if the Senate elected in 1974 had remained intact. Although one of the two independents joined the Liberal Party, the other, Steele Hall, was opposed to blocking supply, and this would have been sufficient to prevent such a course being followed. The change in the composition of the Senate which made the constitutional crisis of 1975 possible was brought about by two appointments to fill vacancies in the Senate, which under the Australian Constitution are made by the State Parliaments. Since the introduction of proportional representation for Senate elections in 1949, there had been a convention that Senators who died or resigned should be replaced by a Senator of their own party, and all state governments had adhered to this convention.

In February 1975 the Premier of New South Wales, Tom Lewis, broke the convention by appointing an independent Senator, Cleaver Bunton, to replace the Attorney-General, Senator Lionel Murphy, who had been appointed to the High Court of Australia. This appointment made no difference to the political situation, because it turned out that Bunton was opposed to blocking supply, but it provided a precedent for the Queensland National Party Premier, Joh Bjelke-Petersen, when a Queensland ALP Senator, Bert Milliner, died on 30 June. Bjelke-Petersen refused to appoint the ALP's chosen replacement, Dr Mal Colston, and asked Labor for three alternative nominations. Bjelke-Petersen said he had concerns over Colston's integrity, but Labor maintained that his real intention was to appoint a Senator who would support the blocking of supply and thus help bring down the Whitlam government. When Labor insisted on nominating Colston, Bjelke-Petersen nominated Albert Field, president of the Federated Furnishing Trades Union and an ALP member of thirty-eight years standing. Bjelke-Petersen maintained that he was therefore not breaking the convention. Under ALP rules, however, Field ceased to be an ALP member as soon as he accepted nomination against an endorsed Labor candidate. Field said that he was opposed to Whitlam's behaviour in office and that he had approached Bjelke-Petersen asking to be nominated to the vacancy. Labor maintained that in these circumstances Field was in effect an anti-Labor Senator and that Bjelke-Petersen had broken the convention.

Field was granted leave from the Senate when High Court cases were filed challenging his eligibility to sit. But the change to the composition of the Senate was in any case decisive, because with Milliner's vote gone, the Opposition could pass Senate motions 30 votes to 29. Rather than blocking supply, they moved to delay consideration of the budget. Whitlam was determined to face the Opposition down, and proposed to borrow money from the banks to keep the government running. He was confident that some of the more moderate Liberal Senators would back down when the situation worsened as appropriations ran out during November and December.

Fraser also knew that the Senators were wavering, and he urged the Governor-General Sir John Kerr, to act. Kerr had been a Whitlam appointment, but he had developed a grudge against the Prime Minister, who he felt had ignored him and snubbed his wife. Kerr was also concerned about the legality of Whitlam's proposals for borrowing money, as were the banks. Kerr contacted the Chief Justice of the High Court of Australia, the former Liberal Attorney-General Sir Garfield Barwick, who gave Kerr private advice that it was his duty to dismiss Whitlam. Kerr was also advised, by New South Wales Governor Sir Roden Cutler that he must warn Whitlam of the possibility of his dismissal.

So on 11 November 1975, without giving Whitlam more than a moment's warning, Kerr revoked Whitlam's commission and installed Fraser as caretaker Prime Minister until a federal election could be held. He then immediately accepted Fraser's advice to call a double dissolution election, in an ironic twist using as triggers the same bills that the Coalition had rejected in the Senate.

On hearing the proclamation dissolving Parliament, which ended with the traditional 'God Save the Queen', Whitlam delivered his famous impromptu address to the crowd that had gathered in front of the steps of Parliament House. During the speech he famously labelled Fraser as "Kerr's cur" and told the crowd: "Ladies and gentlemen, well may we say 'God Save the Queen', because nothing will save the Governor-General."

Although there were a number of public protests against Fraser during the campaign, the media (especially the Murdoch press, which had supported the ALP in 1972) had long since lost confidence in Whitlam, reporting a string of ministerial failures. This had a major influence on public opinion, signalled some months previously in the Bass by-election and the election resulted in a landslide win to the Coalition.
This item is currently out of stock