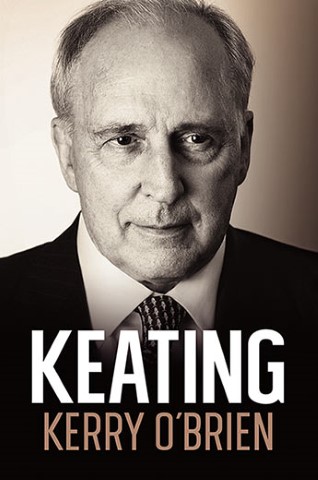 Keating - Kerry OBrien used
Keating - Kerry O'Brien
Used Hardback: .2015 edition Hardcover in good condition ,
Paul Keating is widely credited as the chief architect of the most significant period of political and economic reform in Australia's history. Twenty years on, there is still no story from the horse's mouth of how it all came about. No autobiography. No memoir. Yet he is the supreme story-teller of politics...This book of revelations fills the gap. Kerry O'Brien, the consummate interviewer who knew all the players and lived the history, has spent many long hours with Keating, teasing out the stories, testing the memories and the assertions...What emerges is a treasure trove of anecdotes, insights, reflections and occasional admissions from one of the most loved and hated political leaders we have known-a man who either led or was the driving force through thirteen years of Labor government that changed the face of Australia...This is a man who as prime minister personally negotiated the sale of a quarter of the government-owned Qantas in his own office for 665 million, then delighted in watching the buyer's hand shake so much that champagne spilt down his shirtsleeve. He tells of his grave moment of doubt after making one of the riskiest calls of his political life, and how he used an acupuncturist and a television interviewer to seize the day...There are many stories of this kind. The revealing inside stories and even glimpses of insecurities that go with the wielding of power, from a man who had no fear collecting his share of enemies and ended up with more than enough, but whose parliamentary performances from 25 years ago are watched avidly on YouTube today by a generation that was either not yet born or in knee pants when he was at his peak...We'll never get an autobiography or a memoir from Keating. This is as good as it gets-funny, sweeping, angry, imaginative, mischievous, with arrogance, a glimmer of humility and more than a touch of creative madness. Keating unplugged...
About the subject Paul Keating
Paul John Keating (born 18 January 1944) was the 24th Prime Minister of Australia, from 1991 to 1996. He came to prominence as the reformist Treasurer in the Hawke government from 1983. As Prime Minister, he is noted for his many legislative achievements, and his victory in the 1993 federal election, which many had considered "unwinnable" for Labor. In his second term, however, his "big picture" policies failed to impress an electorate that was increasingly concerned about economic issues. Keating was defeated at the 1996 federal election by the conservative Coalition of the Liberal and National Parties, led by John Howard. Keating was a backbencher for most of the tenure of the Whitlam Labor government (December 1972 – November 1975), and briefly became Minister for Northern Australia in October 1975, one of the youngest ministers in Australian history. After Labor's defeat in 1975, Keating became an opposition frontbencher, and in 1981 he became president of the New South Wales branch of the party, and thus leader of the dominant right-wing faction. As opposition spokesperson on energy, his parliamentary style was that of an aggressive debater. He initially supported Bill Hayden against Bob Hawke's leadership challenges, partly because he hoped to succeed Hayden himself; but by the end of 1982, he accepted that Hawke would become leader.
Keating as Prime Minister
Hawke's undoing had been the policy package unveiled by the new Liberal leader, Dr John Hewson. Known as Fightback!, it was centred around a GST and included massive industrial relations reforms, sweeping cuts to personal income tax and cuts to government spending, particularly in areas of health and education. Hawke and his new Treasurer, John Kerin, had been unable to counter the renewed energy of the opposition, which was invigorated by a policy package it perceived as a vote winner. Keating, however, severely damaged Hewson's credibility in a series of set-piece parliamentary encounters.
Nevertheless, the view of most commentators was that the 1993 election was "unwinnable" for Labor. The government had been in power for 10 years, the pace of economic recovery was sluggish, and some voters perceived Keating as arrogant. However, Keating succeeded in winning back the electorate with a strong campaign opposing Fightback, memorable for Keating's reference to Hewson's proposed GST as "15% on this, 15% on that", and a focus on creating jobs to reduce unemployment. Keating led Labor to an unexpected election victory, and his memorable "true believers" victory speech has entered Australian political folklore as one of the great Australian political speeches. After Keating, some of the reforms of Fightback were implemented under the centre-right coalition government of John Howard.
As Prime Minister, Keating's interests and public perception broadened from that of the narrowly focused Treasurer. His agenda included items such as making Australia a republic, achieving reconciliation with Australia's indigenous population, and further economic and cultural engagement with Asia. These issues, which came to be known as Keating's "big picture," were highly popular with the tertiary-educated middle class, but failed to capture the aspirations of rural and outer-suburban voters
As well as this agenda, Keating embarked on a comprehensive legislative program. He established the Australian National Training Authority (ANTA), reviewed the Sex Discrimination Act, and legislated for the native title rights of Australia's indigenous people following the historic High Court decision in Mabo. He developed bilateral links with Australia's neighbours, primarily Australia's largest neighbour Indonesia. Keating also took an active role in the establishment of the Asia-Pacific Economic Cooperation Forum (APEC), and initiated the yearly leaders' meeting. One of Keating's far-reaching legislative achievements was the introduction of a national superannuation scheme, implemented to address low national savings.
Concerning East Timor, Paul Keating received some criticism from Human Rights groups and Nobel Peace Prize winner José Ramos-Horta over his friendship with President Suharto, and the Keating government's policy of aiding the Indonesian military in their occupation of East Timor. East Timor had gained a higher profile in Australia and Internationally after the Dili massacre. Keating was criticised for his close ties with Suharto and the signing of the Timor Gap Treaty over human rights concerns.
Keating - Kerry O'Brien - about Paul Keating PM