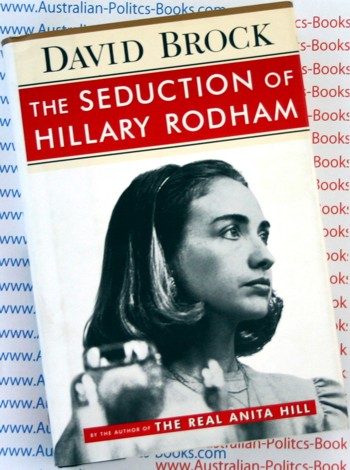 The Seduction of Hillary Rodham - David Brock
The Seduction of Hillary Rodham by David Brock
Used hardback: .1996 edition excellent condition
No public figure in contemporary life has elicited more polarized reactions than Hillary Rodham Clinton. The first presidential spouse who pursued a major policymaking role, the beleaguered first lady has been a heroine and role model to her feminist allies—and a malevolent, power-mad shrew to her conservative foes.
Now David Brock, America's most controversial journalist, takes on the most controversial first lady in history, producing a boldly incisive yet surprisingly sensitive portrait. A political biography of the first order, The Seduction of Hillary Rodham is the story of one strong-willed woman's struggle to maintain her personal and political integrity in the face of powerfully seductive forces, including the appeal of Bill Clinton, a charismatic, talented, but deeply flawed man who may have been both the best and the worst thing that ever happened to her.
About Hillary Rodham Clinton

Hillary Diane Rodham Clinton is the junior United States Senator from New York, and was a candidate for the Democratic nomination in the 2008 presidential election. She is married to Bill Clinton—the 42nd President of the United States—and was the First Lady of the United States from 1993 to 2001.
A native of Illinois, Hillary Rodham first attracted national attention in 1969 for her remarks as the first student to deliver the commencement address at Wellesley College. She embarked on a career in law after graduating from Yale Law School in 1973. Following a stint as a Congressional legal counsel, she moved to Arkansas in 1974, and married Bill Clinton in 1975. She was later named the first female partner at Rose Law Firm in 1979, and was twice listed as one of the one hundred most influential lawyers in America. She was the First Lady of Arkansas from 1979 to 1981 and 1983 to 1992 and was active in a number of organizations concerned with child welfare, as well as sitting on the boards of Wal-Mart and several other corporations.
As First Lady of the United States, her major initiative, the Clinton health care plan, failed to gain approval from the U.S. Congress in 1994. In 1997 and 1999, Clinton played a role in advocating for the establishment of the State Children's Health Insurance Program, the Adoption and Safe Families Act, and the Foster Care Independence Act. She became the only First Lady to be subpoenaed, testifying before a federal grand jury as a consequence of the Whitewater controversy in 1996. She was never charged with any wrongdoing in this or any of the several other investigations during her husband's administration. The state of her marriage to Bill Clinton was the subject of considerable public discussion following the Lewinsky scandal in 1998.
After moving to New York, Clinton was elected as senator for New York State in 2000. That election marked the first time an American First Lady had run for public office; Clinton is also the first female senator to represent New York. In the Senate, she initially supported the George W. Bush administration on some foreign policy issues, which included voting for the Iraq War Resolution. She has subsequently opposed the administration on its conduct of the war in Iraq, and has opposed it on most domestic issues. She was reelected by a wide margin in 2006. In the 2008 presidential nomination race, Clinton won more primaries and delegates than any other female candidate in American history, but after a long campaign, Senator Barack Obama became the party's presumptive nominee in June 2008 and Clinton endorsed him.
When Bill Clinton took office as president in January 1993, Hillary Rodham Clinton became the First Lady of the United States, and announced that she would be using that form of her name. She was the first First Lady to hold a post-graduate degree and to have her own professional career up to the time of entering the White House. She was also the first to take up an office in the West Wing of the White House: the First Lady usually stays in the East Wing. She is regarded as the most openly empowered presidential wife in American history, save for Eleanor Roosevelt.
Some critics called it inappropriate for the First Lady to play a central role in matters of public policy. Supporters pointed out that Clinton's role in policy was no different from that of other White House advisors and that voters were well aware that she would play an active role in her husband's presidency. Bill Clinton's campaign promise of "two for the price of one" led opponents to refer derisively to the Clintons as "co-presidents", or sometimes the Arkansas label "Billary". The pressures of conflicting ideas about the role of a First Lady were enough to send Clinton into "imaginary discussions" with the also-politically-active Eleanor Roosevelt; from the time she came to Washington, she also found refuge in a prayer group of The Fellowship that featured many wives of conservative Washington figures.Triggered in part by the death of her father in April 1993, she publicly sought to find a synthesis of Methodist teachings, liberal religious political philosophy, and Tikkun editor Michael Lerner's "politics of meaning" to overcome what she saw as America's "sleeping sickness of the soul" and that would lead to a willingness "to remold society by redefining what it means to be a human being in the twentieth century, moving into a new millennium." Other segments of the public focused on her appearance, which had evolved over time from inattention to fashion during her days in Arkansas, to a popular site in the early days of the World Wide Web devoted to showing her many different, and much analyzed, hairstyles as First Lady, to an appearance on the cover of Vogue magazine in 1998.
In 1993, Bill Clinton appointed Hillary Clinton to head and be the chairwoman of the Task Force on National Health Care Reform, hoping to replicate the success she had in leading the effort for Arkansas education reform.[ The recommendation of the task force became known as the Clinton health care plan, a comprehensive proposal that would require employers to provide health coverage to their employees through individual health maintenance organizations. The plan was quickly derided as "Hillarycare" by its opponents; some protesters against it became vitriolic, and during a July 1994 bus tour to rally support for the plan, she was forced to wear a bulletproof vest at times. The plan did not receive enough support for a floor vote in either the House or the Senate, although both chambers were controlled by Democrats, and proposal was abandoned in September 1994. Clinton later acknowledged in her book, Living History, that her political inexperience partly contributed to the defeat, but mentioned that many other factors were also responsible. The First Lady's approval ratings, which had generally been in the high-50s percent range during her first year, fell to 44 percent in April 1994 and 35 percent by September 1994. Republicans made the Clinton health care plan a major campaign issue of the 1994 midterm elections, which saw a net Republican gain of fifty-three seats in the House election and seven in the Senate election, winning control of both; many analysts and pollsters found the plan to be a major factor in the Democrats' defeat, especially among independent voters. Opponents of universal health care would continue to use "Hillarycare" as a pejorative label for similar plans by others.
Along with Senators Ted Kennedy and Orrin Hatch, she was a force behind passage of the State Children's Health Insurance Program in 1997, a federal effort that provided state support for children whose parents were unable to provide them with health coverage, and conducted outreach efforts on behalf of enrolling children in the program once it became law. She promoted nationwide immunization against childhood illnesses and encouraged older women to seek a mammogram to detect breast cancer, with coverage provided by Medicare. She successfully sought to increase research funding for prostate cancer and childhood asthma at the National Institutes of Health. The First Lady worked to investigate reports of an illness that affected veterans of the Gulf War, which became known as the Gulf War syndrome. Together with Attorney General Janet Reno, Clinton helped create the Office on Violence Against Women at the Department of Justice. In 1997, she initiated and shepherded the Adoption and Safe Families Act, which she regarded as her greatest accomplishment as First Lady. In 1999, she was instrumental in passage of the Foster Care Independence Act, which doubled federal monies for teenagers aging out of foster care. As First Lady, Clinton hosted numerous White House conferences, including ones on Child Care (1997), on Early Childhood Development and Learning (1997), and on Children and Adolescents (2000). She also hosted the first-ever White House Conference on Teenagers (2000)and the first-ever White House Conference on Philanthropy (1999).
Hillary Clinton traveled to 79 countries during this time, breaking the mark for most-traveled First Lady held by Pat Nixon. In a September 1995 speech before the Fourth World Conference on Women in Beijing, Clinton argued very forcefully against practices that abused women around the world and in the People's Republic of China itself, declaring "that it is no longer acceptable to discuss women's rights as separate from human rights" and resisting Chinese pressure to soften her remarks.She was one of the most prominent international figures during the late 1990s to speak out against the treatment of Afghan women by the Islamist fundamentalist Taliban. She helped create Vital Voices, an international initiative sponsored by the United States to promote the participation of women in the political processes of their countries.
The Seduction of Hillary Rodham by David Brock